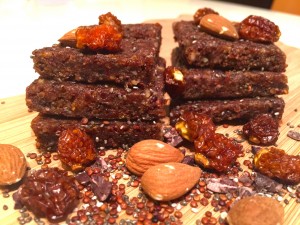 Growing up in Peru, the foods I ate in my childhood hold a special place in my heart, not only for their connection to my culture but for their mouth-watering taste. For those of you that know me, I am always excited to present ingredients from my culture to showcase their culinary versatility and their nutritional value. This energy bar fuses two very powerful ingredients, quinoa and pichuberry, to add carbohydrates, protein, and anti-inflammatory power. I use this bar as a great pre-workout snack to provide me with improved and sustained energy that comes from the complex carbohydrates found in the quinoa. This is also an amazing snack for that mid-afternoon energy boost when your looking to skip processed bars. If your sweet tooth is acting up, the sweetness from the pichuberries and dates help curb that mid-day need for sugar.
Quinoa, a staple of Peruvian cuisine, is delicious, versatile, and filled with health benefits. The ancient civilization of the Incas, who discovered the grain, named it "the mother grain", even though it is technically a seed, for they believed it was a gift from their gods. Quinoa has an exceptional balance between oil, protein, and fat, making it perfect for my new energy bar recipe. For one half cup of quinoa, you get a mixture of 12 grams of protein, 32 grams of carbohydrates, and ten grams of fiber. The added bonus of using quinoa is that it is considered a complete protein because it contains all ten essential amino acids, ideal for vegans and vegetarians.
The pichuberry is a small sized orange fruit with a taste that is both savory and sweet, and is packed with powerful nutrients. Due to its nutritional composition and low glycemic index of 25, pichuberries are considered to be a diabetes- and weight-loss friendly fruit. Pichuberries also have a high antioxidant capacity due to its vitamin C content and other phytonutrients. Recent studies suggest that vitamin C, also known as ascorbic acid, aids with growth and maintenance of tissues, hormones and immune system responses. Its antioxidant capabilities have been linked to the protection of DNA, proteins, and lipids within the body from oxidative damage. This helps the body get a jump start in the healing process, working through the inflammation caused by everyday stresses.
Serves: 14 Serving Size: 1 1-ounce cube
Ingredients for quinoa:
1 cup quinoa
2 cups water
Ingredients for energy bar:
1 cup dates, halved and pitted
½ cup almonds, raw
2 tablespoons cacao nibs
½ cup pichuberries, dried
2 tablespoons chia seeds
½ cup quinoa, cooked
Directions for quinoa:
Put the quinoa into a sieve and rinse it under cold water until the water runs clear. Transfer to a medium saucepan and add the water. Bring to a boil, cover, and reduce heat to low. Simmer until all the water has been absorbed, 15 to 20 minutes. Fluff with a fork
Directions for energy bar:
Put all the ingredients in a small bowl and toss to combine. Working in batches, grind the mixture in a food processor to form a coarse, homogeneous paste.
Press the paste into a parchment-lined baking dish. Put a second piece of parchment paper over the top of the paste and press down with your hands to ensure a smooth, uniform surface.
Put the paste in the refrigerator for 1 hour. Once it has hardened, cut it into 14 bars using a chef's knife.
                Note: The bars can be stored in the refrigerator for up to a week.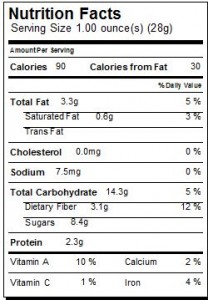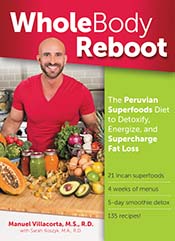 For more recipes using Peruvian superfoods, visit here.