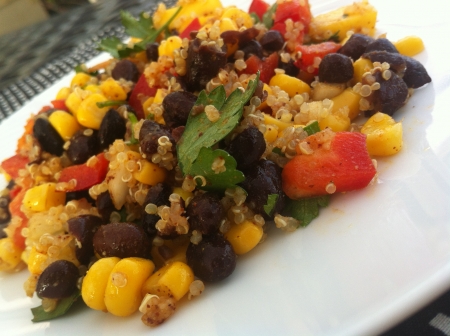 Southwestern Black Bean, Quinoa, and Mango Salad
Recipe by Sharon Palmer, RD, The Plant-Powered Dietitian
The jewel-like black beans shine in this crunchy, zesty salad. Serve it with corn tortillas and vegetable soup for an easy, refreshing meal.
Makes 6 servings (about 1 cup each)
Ingredients:
1 – 15 oz can black beans, no salt added, rinsed, drained
1 cup cooked quinoa (according to package directions)
1 cup frozen corn
1 small red bell pepper, chopped
1 cup chopped fresh mango
1/4 cup chopped red onion
1/2 cup fresh cilantro, chopped (or 2 tsp dried if not available)
1 small fresh jalepeno pepper, seeded, finely diced
1 lemon, juiced
1 1/2 Tbsp extra virgin olive oil
2 cloves garlic, minced
1/2 tsp cumin
1/2 tsp chili powder
1/4 tsp turmeric
Instructions:
1. Mix beans, quinoa, corn, pepper, mango, onion, cilantro and jalapeno together in a mixing bowl.
2. In a small bowl, whisk lemon juice, olive oil, garlic, cumin, chili powder and turmeric together. Toss into salad mixture and chill until serving time.
Nutrition Information:
Per Serving (1 cup):
Calories: 201
Fat: 5 g
Sat Fat: 1 g
Sodium: 9 mg
Carbohydrate: 36 g
Fiber: 8 g
Protein: 8 g
Recipe from The Plant-Powered Diet: The Lifelong Eating Plan for Achieving Optimal Health, Beginning Today, copyright © Sharon Palmer, 2012. Reprinted by permission of the publisher, The Experiment. Available June 2012.
For even more information on powering up your diet with plant foods, you can join my 14-day Go Plant Power Challenge, staring on August 5th. Join by simply clicking "LIKE" on the Go Plant Power Facebook Page which will host the 14 days of alerts with recipes and other helpful tips. By the end of the 14th day, you will possess the tools to change your diet and health for the better.
Sharon Palmer is a registered dietitian, writer and author of The Plant-Powered Diet. Over 750 of her articles have been published in national publications, including Prevention, Better Homes and Gardens and Today's Dietitian. She is also the editor of the award-winning publication Environmental Nutrition and writes for her blog, The Plant-Powered Dietitian. Sharon makes her home with her husband and two sons in the chaparral hills overlooking Los Angeles.