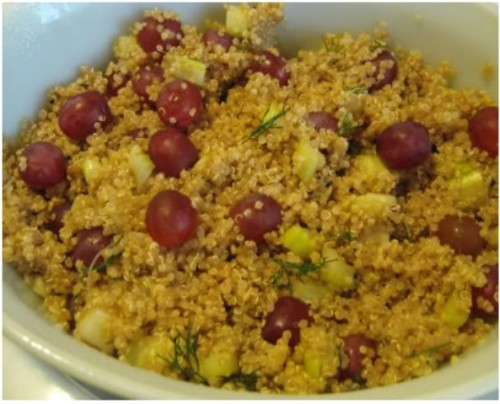 Guest blog by: Marjorie Nolan Cohn, MS, RD, author of The Belly Fat Fix: Taming Ghrelin, Your Hunger Hormone, for Quick, Healthy Weight Loss
Ghrelin: the hunger hormone
When it comes to ghrelin-suppression, high-quality proteins, and high fiber foods make the difference. Quinoa is very high in protein and fiber. In fact, quinoa has more protein and fiber than than most other carbohydrate based foods. For ghrelin suppression purposes it's quinoas' high protein and fiber content can make it about twice as filling as white rice for an equal portion. Quinoa is also high in key vitamins and minerals, such as folate, iron, magnesium, and phosphorous that support metabolism and overall health.
Quinoa Salad with Grapes and toasted Walnuts
Serves 4
Ingredients:
1 cup quinoa, rinsed
1/4 teaspoon salt
2 Tablespoons white wine vinegar
1 tablespoon olive oil
1 rib celery, chopped
2 cups red seedless grapes, halved
1/2 cup dried cranberries
1/4 cup walnut pieces, lightly toasted
Directions:
Prepare the quinoa according to package directions. Remove from the heat, add the salt, and let stand for 5 minutes.
Meanwhile, in a large bowl, whisk together the vinegar and oil. Add the quinoa, celery, grapes, and cranberries. Toss to coat well. Sprinkle with the toasted walnuts. Serve warm or at room temperature.
You can pair this salad with your favorite lean protein for a complete meal!
Per serving: 314 calories, 8 g protein, 49 g carbohydrates, 11 g total fat, 1 g saturated fat, 5 g fiber, 163 mg sodium