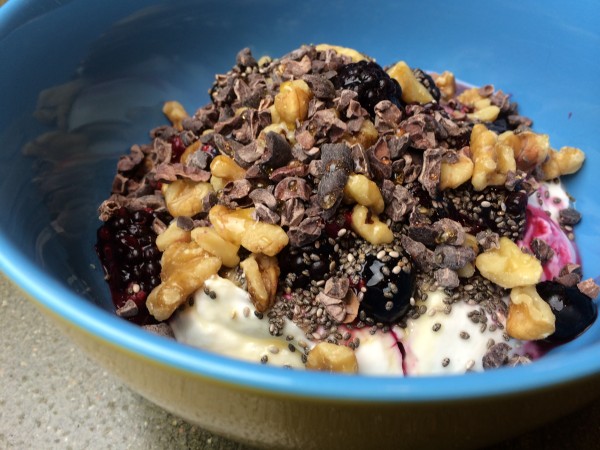 We've all heard about breakfast being one of the most important meals of the day—and it's true!  And what better way to jump-start your day than with a brain food boost! I like this recipe for its simple preparation, but also because it's packed with nutrient-dense foods.  Yogurt supplies protein and probiotics while walnuts and chia seeds give you a boost of omega-3 fatty acids.  And you can't go wrong with cacao nibs and mixed berries with their antioxidant, immune boosting powers.  Eat this meal for breakfast or resize the amounts for a snack.  Either way, it's a great way to keep those brain cells healthy.
Breakfast Brainfood Parfait
Serves 1
Ingredients:
¾ cup* Greek yogurt (2% or by preference)
¾ cup* mixed berries
1 Tablespoon crushed walnuts
1 Tablespoon cacao nibs
1 Tablespoon chia seeds
1 Tablespoon honey
*If eating this for a light snack, use ½ cup each Greek yogurt and mixed berries.
Tools:
Serving bowl with spoon
Directions:
Place Greek yogurt and berries in a bowl. Top with walnuts, cacao nibs, chia seeds and honey. Enjoy!