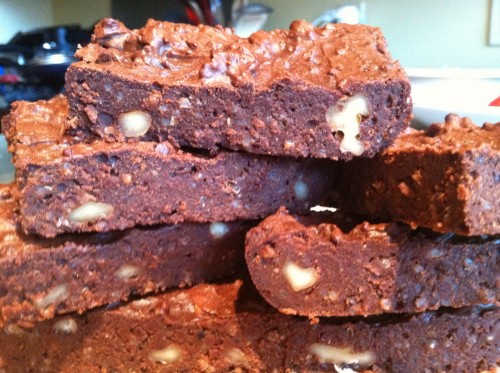 Just when I thought I had made everything under the sun with quinoa, I had and idea: A Peruvian Power Brownie!
While brownies are almost always served as a dessert item, I made this brownie using quinoa flour, cooked quinoa, cacao powder and coconut oil, easily doubling its use as an energy bar!  Not only is it a great pre-exercise fuel, but it is also gluten free.  It's fantastic!
Gluten-Free Quinoa Fudge Brownie
Makes 16 2" x 2" brownies
Ingredients:
½ cup tri-color quinoa, dry
1 cup quinoa flour
½ cup cacao powder
¼ tsp salt
1/3 cup coconut oil
2 oz. dark chocolate, chopped fine
½ cup agave
1/3 cup vanilla soymilk
1 tsp vanilla extract
1 large egg
2 large egg yolks
¼ cup walnuts, chopped
Coconut oil cooking spray
Equipment:
2-quart saucepot
Large mixing bowl
Medium mixing bowl small microwave-safe bowl
Sifter
Whisk
8" x 8" square baking dish
Instructions:
To cook the quinoa:
1. Bring ½ cup dried quinoa and 1 cup of water to a boil in a 2-quart saucepot.
2. When the water begins to boil, cover pot and reduce heat to low. Cook quinoa until
tender and most of the water has been absorbed, 15-20 minutes.
3. When done, remove from heat and let stand, covered for 10 minutes. Fluff with a
fork.
To make the brownies:
4. Preheat oven to 350 F.
5. Sift dry ingredients (quinoa flour, cacao powder, salt) into a large bowl and set aside.
6. Place coconut oil and chocolate in a small microwave-safe bowl. Heat in microwave for
30 seconds, remove and stir. Heat for an additional 30 seconds, remove and stir. The
mixture should appear completely melted. If it is not, microwave in 15 second increments,
making sure not to burn the chocolate. Set aside.
7. Place liquid ingredients (agave, soymilk, vanilla extract, egg and egg yolks) in a medium
bowl and whisk to combine. Add chocolate mixture to liquids and whisk to combine.
8. Add the liquids to the dries and whisk until smooth. Fold in chopped walnuts and 1 cup
cooked quinoa.
9. Coat an 8" x 8" square baking dish with coconut cooking spray. Pour batter into oiled
baking dish and place in the oven.
10. Bake for 15 minutes or until set.
11. Once cool, cut into 16 pieces. Enjoy.
More recipes just like this in Peruvian Power Foods Book. Order on Amazon