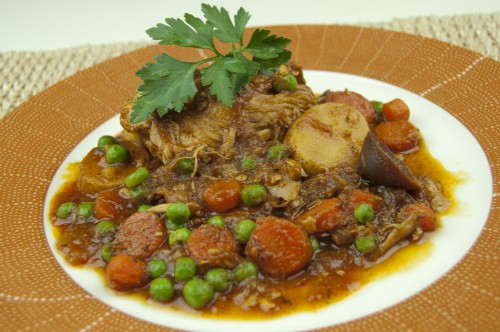 When I moved to the United States from Lima, Peru, I was far away from my family and clueless about how to cook and what to eat. Living with American roommates, I was introduced to grabbing a handful of cereal for breakfast while running out the door. For lunch and dinner, we scarfed down cold sandwiches or takeout. Sadly, not only was I gaining weight and lacking energy, I was missing my comfort foods from home
Growing up in Peru, we always enjoyed homemade meals made with whole foods. So this new way of living made me completely homesick, fat, and unsatisfied. In need of a serious lifestyle change,. I called my mom and asked her to mail me my favorite recipes (this was before e-mail). As soon as the mail arrived, I would rip open the letter, rush to the grocery store, and teach myself how to prepare my native dishes. Slowly, I began to get back to my normal weight. I felt invigorated, empowered, and revitalized.
I am sharing the first recipe my mother taught me to make through her many letters. I chose the chicken stew, not only because it was the first she taught to me, because of how comforting it is to my family. This dish is beyond that of the traditional; it is an everyday meal for those who live in Peru.

Servings: 5
Serving size: 1 cup
Ingredients:
Whole chicken
2 tablespoon Canola oil for browning the chicken
1 tablespoon Canola oil for sauté
1 medium yellow onion, diced
2 cloves garlic, diced
16 oz. tomato sauce
2 bay leaves
6 yellow medium potatoes, sliced
3 purple medium potatoes, sliced
1 cup carrots, sliced
½ cup chicken broth
Salt and pepper to taste
½ cup peas, frozen
Directions to brown chicken:
Rinse chicken; pat dry with paper towels.
Heat the Canola oil in large skillet over medium heat.
Remove skin and any extra fat and add chicken pieces to the heated oil in a single layer without crowding.
Cook 8 to 10 minutes per side or until chicken is browned; remove with tongs.
Repeat with remaining chicken pieces. Place browned chicken pieces aside.
Directions to make stew:
In the same pot the chicken was browned in, heat the Canola oil in a large saucepan over medium heat.
When the oil is hot, add the onion and garlic. Sauté until soft and fragrant. Stir in the tomato sauce, bay leaves, and chicken. Cover and simmer for 20 minutes.
Add the sliced potatoes, carrots, ½ cup chicken broth, and salt and pepper to the mix. Stir, cover, and simmer for 20 more minutes.
Add the frozen peas and simmer for an extra few minutes.
Viola, your stew is now ready to serve and enjoy. Add a side of quinoa, potatoes, or brown rice for a complete meal.
Note: Store the stew in the refrigerator for up to five days.