I'm excited to announce my new book coming in December 2019: The Healthy Cookbook for Men!
This book will contain dozens of recipes for people who are just starting to get into the kitchen and is sure to make cooking simple even for beginners. When working on my books, many people are curious as to how I get to the final product and what all goes into it. So, I decided to show you a day behind the scenes of my process for recipe development and how exactly my delicious recipes go from my kitchen to the pages of a book. In this video, we are making Corn Sauerkraut Salad which was inspired by Latin flavors.
Unlike my other recipe videos, not only will you get the demonstration of how to make the recipes, but also the brainstorming process, how we decide to develop the flavors, how we decide what ingredients to add or take away based on the taste as well as how you measure the final yield and determine the serving size of a recipe. Since the book is designed to make cooking simple and fast, while also being nutritious, watch how we use frozen vegetables to make a mouthwatering dish. You can also watch us have fun with a neat new tool that cuts the time of cutting vegetables in half making it even simpler to have a plant!
Adding Fat and Protein to Your Salad
A key ingredient on any salad is the fat. Fat can come in the form of oil, nuts, seeds, and avocado. Not only are these fats anti-inflammatory, but you need fat to absorb the fat-soluble vitamins (ADEK), antioxidants, and phytonutrients in vegetables. Add your protein of choice to this salad for a well-rounded meal.

Corn Sauerkraut Salad
Sauerkraut is a fermented probiotic that eases digestion and improves gut health.
Print Recipe
Pin Recipe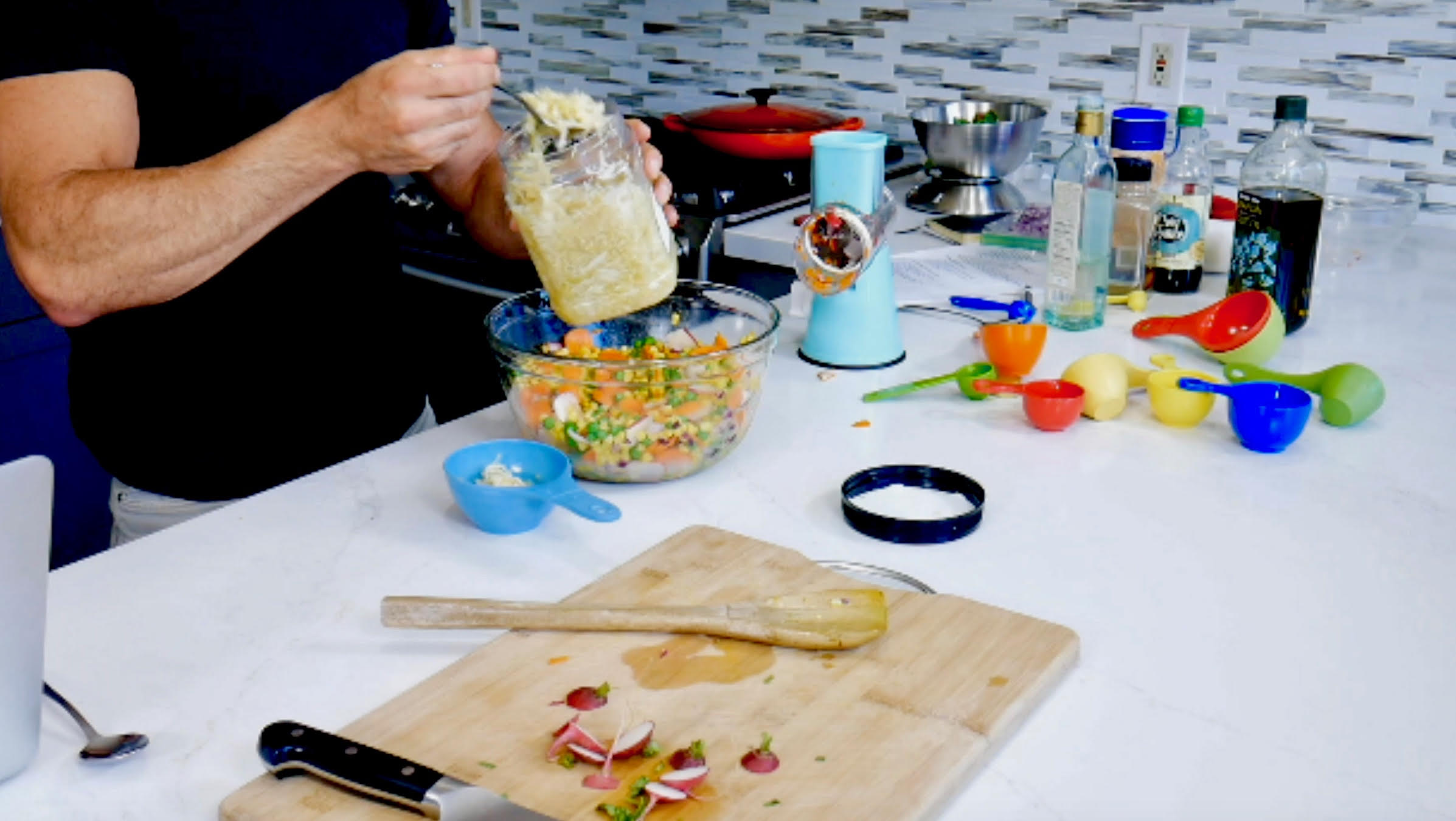 Ingredients
3

7-inch

carrots

thinly sliced '

5

radishes

thinly sliced

8

ounces

frozen peas

defrosted

16

ounces

frozen corn

defrosted

¼

cup

diced red onion

1

cup

sauerkraut

3

tablespoons

white wine vinegar

2

tablespoons

olive oil

1½

teaspoon

sea salt

½

teaspoon

black pepper
Instructions
Place the carrots, radishes, peas, corn, red onions, and sauerkraut in a medium bow.

Pour olive oil vinegar on top.

Sprinkle with sea salt and pepper.

Toss well to combine.
Video
Notes
Chef's Note: To defrost frozen vegetables more quickly, empty the bag into a colander and rinse with water for a couple minutes. This salad is seasoned from the beginning because the marinade is what works in this salad. It tastes even better the next day.
Recipe from: The Essential Cookbook for Men