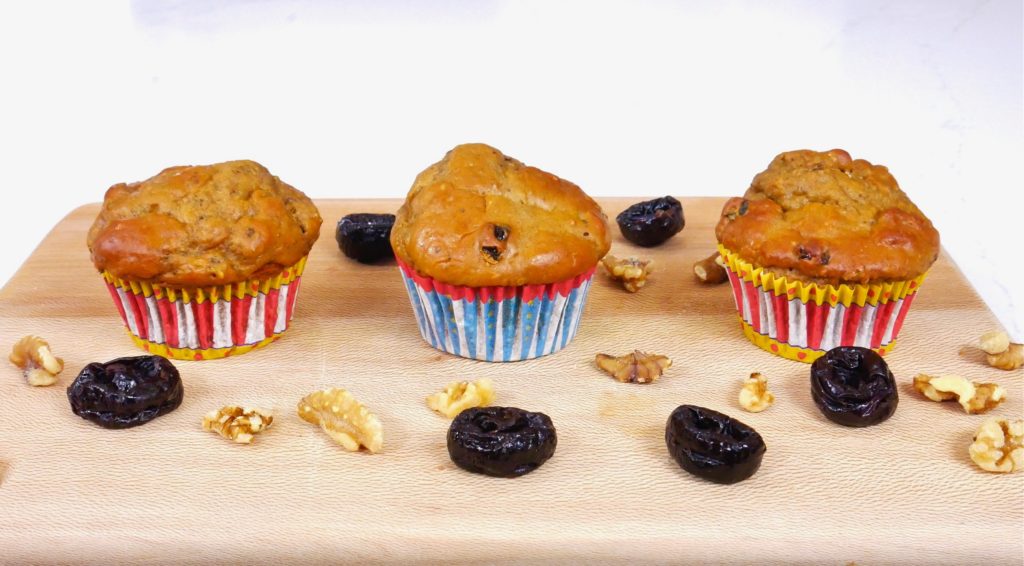 For those who didn't know, May is National Osteoporosis Month. According to the International Osteoporosis Foundation, an osteoporotic fracture occurs every 3 seconds and the time to start taking care of your bones to prevent osteoporosis isn't when you begin to get older, but it is during your younger years when bone is still developing. Through proper nutrition and exercise, you can prevent this disease by keeping your bones strong.
We are very familiar with the fact that dairy foods are high in calcium and, therefore, good for your bones, right? However, there is another food that you may not have thought about before for bone health which is prunes. Prunes have both potassium and magnesium, and are a source of Vitamin K. All three of these nutrients are lesser known for their role in keeping bones strong, but are important in their role with bone health nonetheless. Potassium is associated with lower risk of bone loss and osteoporosis, magnesium helps with maintaining bone structure and vitamin K helps with bone mineralization meaning that it helps keep bones hard and sturdy. Finally, prunes also have antioxidant polyphenols, which researchers are investigating for their potential role in reducing bone mineral loss.
This muffin recipe is a powerhouse for nourishing your bones. Firstly, it contains Greek yogurt and chia seeds which are both good sources of calcium to support your bones. It also contains Sunsweet Amaz!n Prunes which can complement the calcium content with the nutrients mentioned above for more bone health. Research suggests that eating 5-6 prunes each day may help to prevent bone loss.
These delicious muffins are sweetened with Sunsweet Amaz!n Prune Juice which has no added sugar and comes from the highest quality fruit: the Sunsweet Amaz!n Prune. Each delicious serving of juice is a natural source of 3 grams of fiber and 5 essential vitamins and minerals.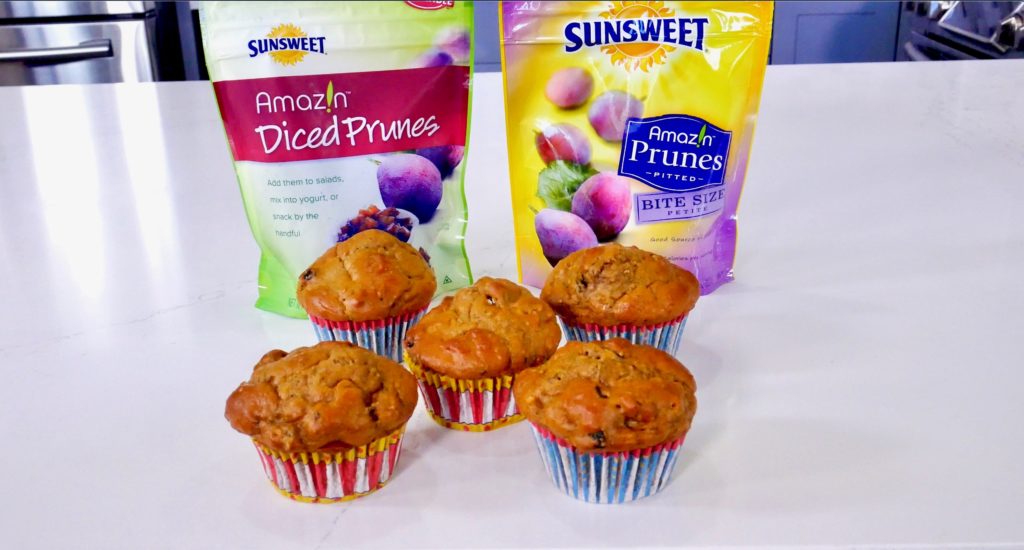 Amaz!n Prunes Walnut Muffins
Print Recipe
Pin Recipe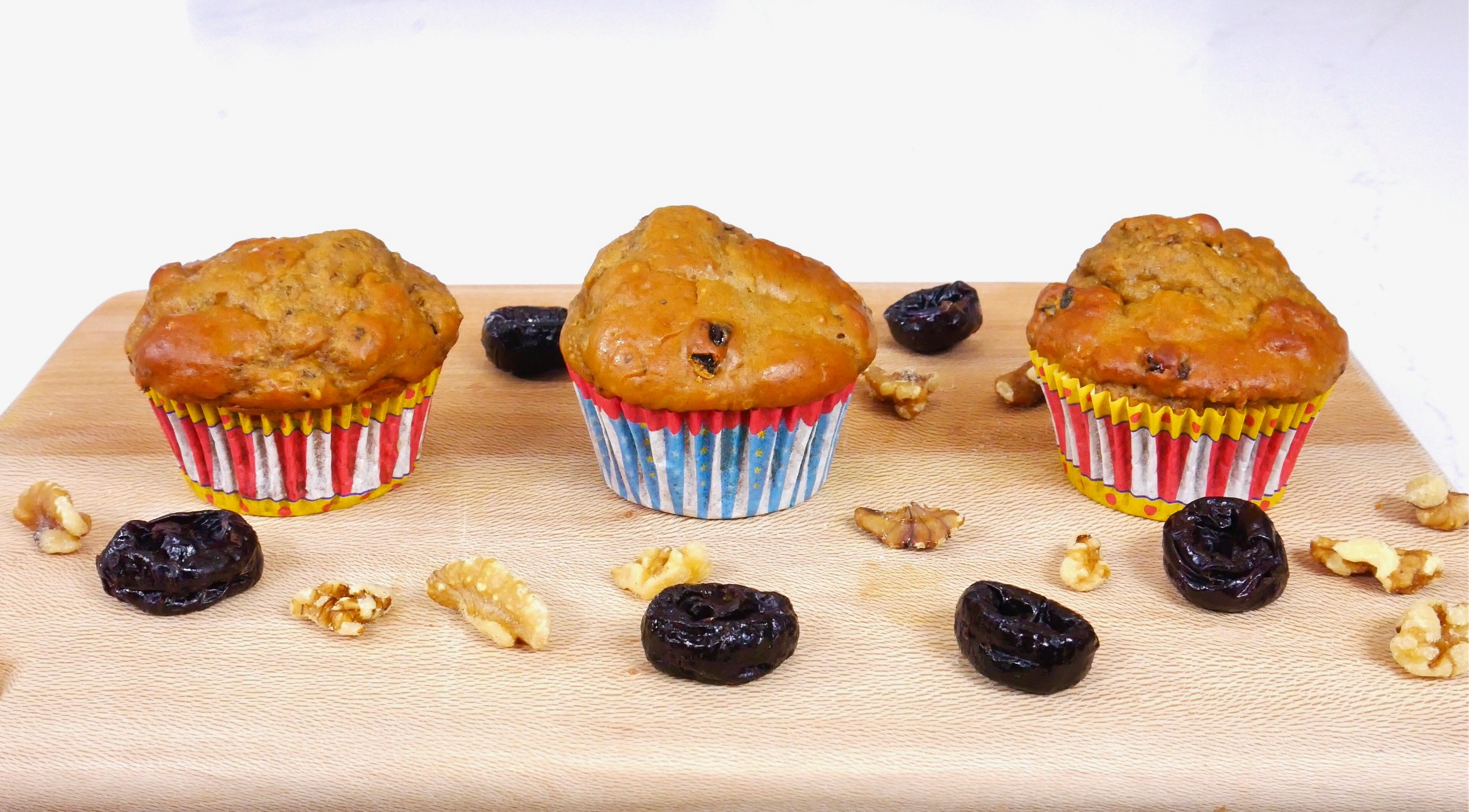 Ingredients
1

cup

Greek yogurt

Plain 2%

1

cup

Sunsweet Amaz!n Prune Juice

2

eggs

2

teaspoons

vanilla extract

1

tablespoon

canola oil

2

cups

all purpose flour

1

teaspoon

baking soda

1

teaspoon

baking powder

1

teaspoon

sea salt

¼

cup

coconut sugar

½

teaspoon

cinnamon powder

2

tablespoons

chia seeds

1

cup

Sunsweet Amaz!n Diced Prunes

½

cup

chopped walnuts
Instructions
Preheat oven to 350 degrees F.

Combine the flour, baking soda, baking powder, chia seeds, sea salt, sugar and the cinnamon into a small bowl. Set aside.

Add the yogurt, eggs, vanilla extract, oil and juice into a large bowl. Whisk to combine.

Gently whisk the dry ingredients into the wet ingredients.

Add the prunes and walnuts into the mix.

Lightly spray a 12-cup muffin tin with the oil spray. Divide the batter among the 12 muffin cups. Add the batter and place in the oven on the middle rack.

Bake for 22-25 minutes or until golden brown and a toothpick entered in the center comes out clean.