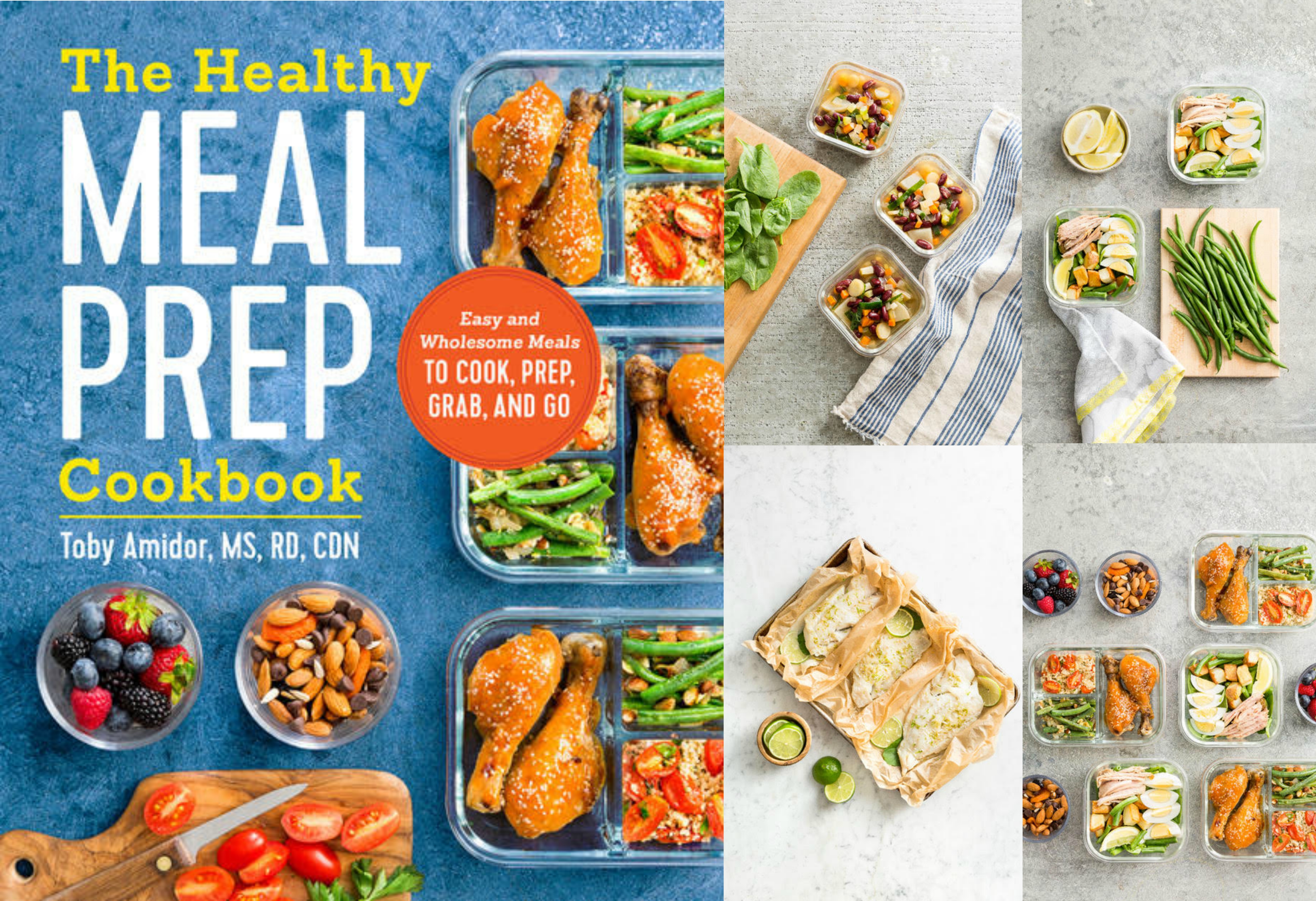 Never have time for breakfast? Forgot to make lunch again? Spending too much money on eating dinner out? No more excuses. Finally, there is an excellent resource to help those looking to organize and meal plan- without the headache, fear and anxiety it can bring.
Having personally worked with clients, I can attest that most of the difficulty in getting one to  reach their health goals is not just eating healthier, but preparing and having the right foods stocked, so that when hunger hits, you're prepared.
The Healthy Meal Prep Cookbook is beautifully organized and gives just as much detail as you need to meal prep like a pro. The author Toby Amidor, a dietitian specializing in culinary nutrition learned from her grandmother who cooked every meal for her husband. Impressive and very sweet, but in these days, seriously, who got time for that?! Fortunately, her smart grandmother was not about to spend every minute in the kitchen, and instead she would prepare a month's worth of meals, package them individually, and freeze them. Those are some mad skills right there! Can you imagine not having to cook for an entire month?! Brilliant!

Besides saving time, (which is huge!) there are many reasons why everyone should learn how to meal prep. These are just a few:
Saving money

Controlling portions

Getting more done with less effort

Eating healthier

Improving multitasking skills

Reaching your health goals faster and easier!
Since Toby has a background in culinary nutrition, the recipes are not only tasty and satisfying, but they are realistic as well. Recipes you choose to meal prep with can be exhausting or simple and effective. Go with the latter. The recipes included in this book are for beginner home cooks and are easy to follow, meaning that ingredients are common an easy to find- making your job easier.
My favorite part of the whole book is the step by step process for Sunday meal preps. Choosing a day to commit to your shopping, prepping, cooking and storing is no joke. In many way, this is meal prepping in a nutshell, but Toby makes it easy and fun (believe it or not), because the organization is already done for you. Just follow each step for how to put your meals together for the week, and chances are you won't go hungry.
Lastly, the book provides 3 meal plans to choose from, from weight loss, clean eating and building muscle. Pick your goal and head to those recipes, easy peasy.


Toby also gives recommendations from the best storage/ tupperware to use, to essential kitchenware to own, setting you up for real success. There's much more great advice and knowledge spilling all over this book. Toby goes through the art of storage, refrigerator and freezer basics, thawing and reheating, staples to always have on hand, and also an incredible chart so you can see exactly how long specific foods will last both in the fridge and freezer. Pretty cool!
Bottom line is meal prep can change your life, stress and even your relationships. When you can organize your time and feed yourself well, you have more time and energy for spending it on things you really want to do, and with people you love being with. Happy Prepping!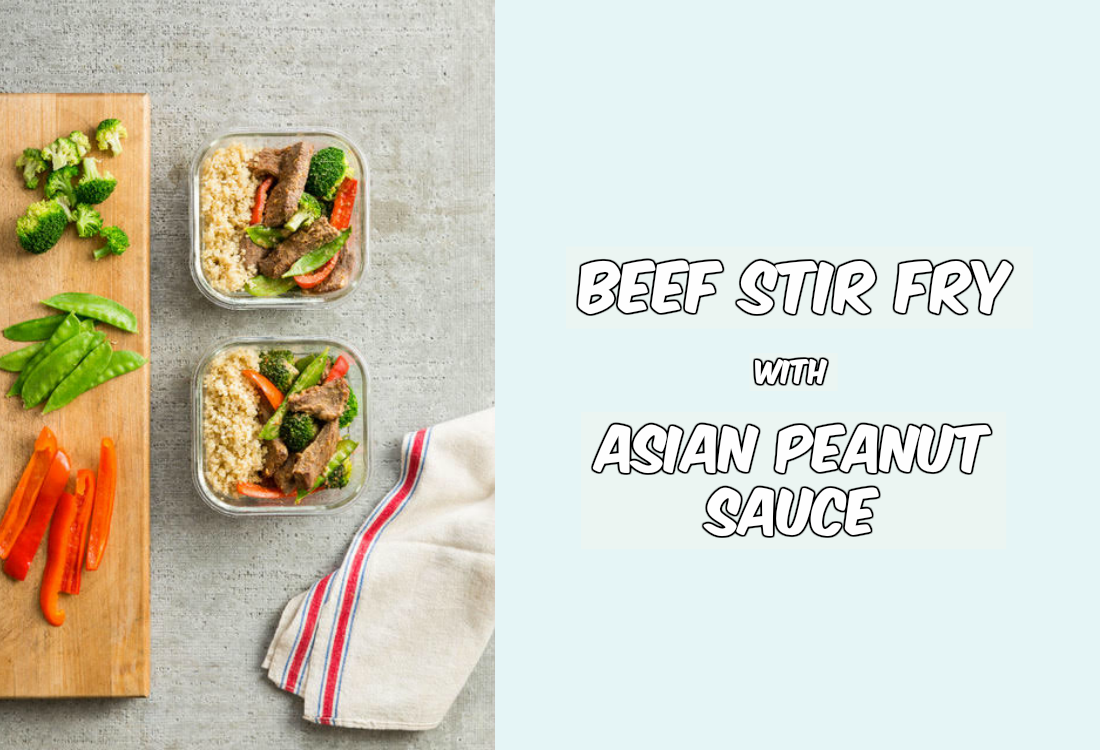 Ingredients:
1 pound top sirloin, cut into 11?2-inch strips
6 tablespoons Asian Peanut Sauce (see below), divided
2 cups water
1 cup quinoa
1 tablespoon canola or safflower oil
1?2 head broccoli, cut into bite-size florets
1 red bell pepper, cut into 1-inch-wide strips
1 cup snow peas
Asian Peanut Sauce
½ cup light coconut milk
¾ cup creamy peanut butter
3 tbsp reduced sodium soy sauce
3 tbsp fresh lime juice
2 tbsp shallots, chopped
1 garlic clove, chopped
1 tbsp brown sugar
2 tbsp water, more if needed
Instructions:
For the Asian peanut sauce: In a blender or food processor, add the coconut milk, peanut butter, soy sauce, lime juice, shallots, garlic and brown sugar. Blend until smooth. Add the water to achieve your desired thickness.
For the stir fry: In a large bowl, add the beef strips and 4 tablespoons of the Asian Peanut Sauce and toss to coat the meat. Cover the bowl and refrigerate for at least 30 minutes or up to overnight.
In a medium pot over high heat, bring the water to a boil. Stir in the quinoa and reduce the heat to medium-low. Cover and simmer the quinoa, stirring occasionally, until the liquid is absorbed and the grains are tender, about 15 minutes. Transfer the quinoa to a large bowl and let cool lightly.
In a large wok or skillet over medium heat, heat the oil until it shimmers. Add the beef and cook until it is browned on all sides, about 8 minutes. Discard the leftover beef marinade. Add the broccoli, bell pepper, and snow peas, stirring occasionally, until the vegetables have started to soften, about 8 minutes. Add the remaining 2 tablespoons of Asian Peanut Sauce to the stir-fry and cook, stirring frequently, until heated through, about 2 minutes.
Copyright Toby Amidor, The Healthy Meal Prep Cookbook: Easy and Wholesome Meals to Cook, Pre, Grab, and Go, Rockridge Press, 2017.
Photo courtesy of Nat & Cody Gantz