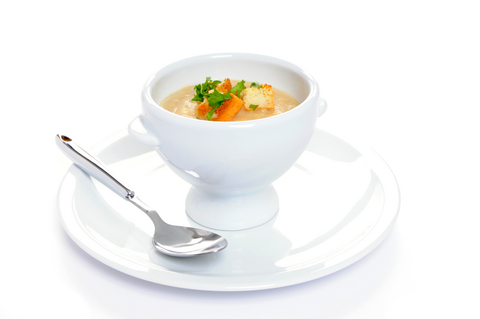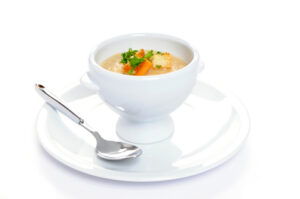 Ingredients
5 c. water
8 c. vegetable broth
4 cups green split peas, rinsed
2 c. finely chopped onion
1/3 c. fresh minced garlic
2 tsp smokey spicy paprika
3 TB. Olive oil
12 ounces diced Canadian bacon (add as garnish)
2 c. finely chopped carrot
2 c. thinly sliced celery
1 TB freshly ground black pepper
1 TB salt
½ c. fresh thyme, chopped
½ c. fresh parsley, chopped
3 TB fresh lemon juice
Instructions
FREEBIES: 1 G&S, 2 Meat, 1 Fat, Calories:205  Fat: 6g, Carbs: 25g, Fiber: 8g, Protein: 13g
Instructions:
Heat large stock pot with olive oil over medium high heat and cook onions, garlic, carrots, celery, and paprika over for 10-15
minutes, until translucent. TRICK: cover the pan for the first 5 minutes so the moisture from the vegetables steam them, making the
center more tender and the need for less olive oil.
Add all liquid, herbs and peas. Cover and simmer for 45 minutes, uncover and simmer for an additional 45 minutes – stirring occasionally.
Add salt, pepper, thyme, parsely and lemon juice.
Garnish with sautéed pancetta and thyme sprigs.
Yield: 12 servings (serving size: 1 1/4 cups)
Created by Chef Traci Higgins