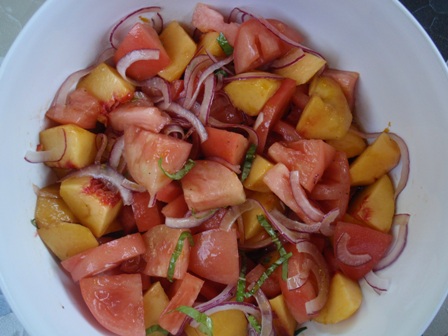 Delicious, juicy peaches oozing with love are combined with luscious tomatoes in this wonderful, fresh summer salad. Super quick and easy to prepare. Enjoy the light, succulent richness of these glorious summer delights!
Summer Peach & Tomato Salad
Ingredients:
1/4 cup thinly vertically sliced red onion
1/2 pound ripe peaches, pitted and cut into wedges
1/4 pound heirloom beefsteak tomatoes, cut into thick wedges
1/4 pound heirloom cherry or pear tomatoes, halved
1 tablespoon sherry vinegar
1 1/2 teaspoons extra-virgin olive oil
1 teaspoon honey
1/8 teaspoon salt
1/8 teaspoon freshly ground black pepper
1/4 cup (1 ounce) crumbled feta cheese
2 tablespoons small basil leaves or torn basil
Directions:
Combine first 4 ingredients in a large bowl. Combine vinegar, olive oil, honey, salt, and pepper in a small bowl, stirring with a whisk. Drizzle vinegar mixture over peach mixture; toss well to coat. Sprinkle with cheese and basil.
Yield: 4 servings (serving size: 1 cup)
CALORIES 75
FREEBIES:  1 NSV; 0.6 Fat; 0.3 Fruit, 0.3 Meat
Adapted from: Eating Well website