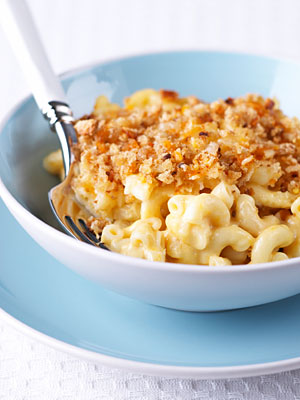 Ingredients:
Topping –
1/3 cup panko bread crumbs
1 Tbsp unsalted butter, melted
Mac 'n' cheese –
8 oz whole wheat macaroni
1 Tbsp unsalted butter
1 ½ Tbsp flour
1 tsp powdered mustard
2 ½ cup 1% milk
½ cup (3 oz) shredded reduced-fat sharp cheddar cheese
½ cup grated Parmesan cheese
½ cup part-skim ricotta
2 cups fresh or frozen broccoli
1 cup frozen chopped spinach
Salt and pepper to taste
Directions:
Toss breadcrumbs and butter together in a small bowl; set aside.
Bring a large pot of water to a boil and cook macaroni for 8 minutes, or as instructed on package.  Drain and set aside.
Meanwhile, heat butter in a large pot over medium heat.  When bubbling, add flour and mustard and constantly whisk until smooth, about 1 minute.  Slowly add milk, whisking to break up any lumps.  Continue whisking until mixture thickens, about 2 to 4 minutes.
Turn off heat and whisk in cheddar, Parmesan, and ricotta cheeses until smooth.  Stir in broccoli and spinach.  Add salt and pepper to taste.  Stir in cooked pasta and let mixture heat up until bubbling.
Transfer mixture to a broiler-safe 9 x 12 inch baking dish and sprinkle with bread crumb mixture.  Broil until golden brown on top.
Yield: 6 servings (serving size: 2 cups)
Freebies: 2 G&S, 0.5 Milk, 1 Meat, 1 NSV, 2 Fat
Calories 335 (30% from fat); Fat 11.4g (sat 6.8g); Protein 18.7g; Carb 38.7g; Fiber 5g; Cholesterol 36mg; Potassium 443mg; Sodium 532mg; Calcium 387mg
Recipe from Lisa Matsunaga, Dietetic Intern