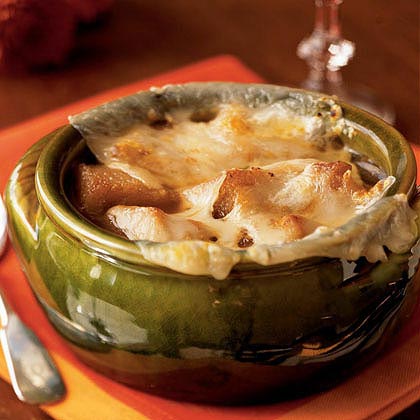 2 tsp olive oil
4 cups thinly vertically sliced Walla Walla or other sweet onion
4 cups thinly vertically sliced red onion
1/2 tsp sugar
1/2 tsp freshly ground black pepper
1/4 tsp salt
1/4 cup dry white wine
8 cups less-sodium beef broth
1/4 tsp chopped fresh thyme
8 slices French bread, cut into 1-inch cubes
8 slices reduced-fat, reduced-sodium Swiss cheese
Heat olive oil in a Dutch oven over medium-high heat.  Add onions to pan; sauté for 5 minutes or until tender.  Stir in sugar, pepper, and 1/4 tsp salt.  Reduce heat to medium; cook 20 minutes, stirring frequently.  Increase heat to medium-high, and sauté for 5 minutes or until onion is golden brown.  Stir in wine, and cook for 1 minute.  Add broth and thyme; bring to a boil.  Cover, reduce heat, and simmer 2 hours.
Preheat broiler.
Place bread in a single layer on a baking sheet; broil 2 minutes or until toasted, turning after 1 minute.
Place 8 ovenproof bowls on a jelly-roll pan.  Ladle 1 cup soup into each bowl.  Divide bread evenly among bowls; top each serving with 1 cheese slice.  Broil 3 minutes or until cheese begins to brown.
Yield: 8 servings (serving size: 1 cup soup with 1 ounce bread and 1 slice cheese)
Freebies: 1 G&S, 2 Meat, 2 NSV, 2 Fat
Recipe from: www.CookingLight.com