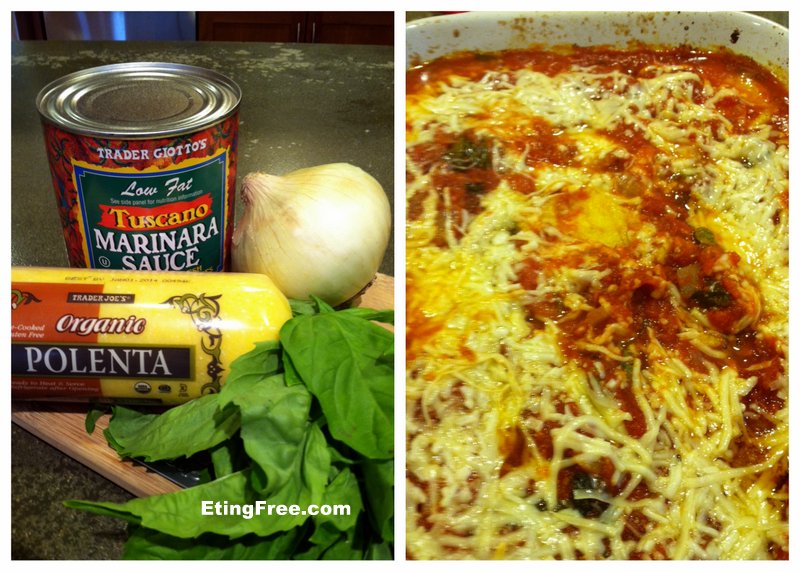 Ingredients:
1 tablespoon olive oil
2 cloves garlic, minced
1 small white onion, chopped
1 handful fresh basil, chopped
1 – 28 oz. can "Tuscano" Marinara Sauce (Trader Joes brand)
2 – 18 oz. tubes organic (non-GMO) polenta (Trader Joes brand)
3 oz. parmesan cheese, grated
Olive oil cooking spray
Equipment:
9" x 13" baking dish
Large saute pan
Wooden spoon
Aluminum foil
Directions:
Preheat oven to 350 °F for 10 minutes.
Coat baking dish with a thin layer of olive oil cooking spray
Slice polenta into ¾" slices and place evenly in baking dish to fill the bottom.  Lightly spray the tops of the polenta with cooking spray.  Set aside.
Place 1 tablespoon of olive oil in a large saute pan over medium heat.  When hot, add garlic and onion.  Cook for a few minutes until soft.
Add 1 can marinara sauce and chopped basil to the pan.  Lower heat to medium-low and simmer for 5 minutes until aromatic.
Pour sauce evenly over the polenta.  Sprinkle with parmesan cheese to cover.
Place a sheet of aluminum foil over the top and seal tightly.  Bake for 15-20 minutes until heated through.
Cool for 5 minutes before serving.