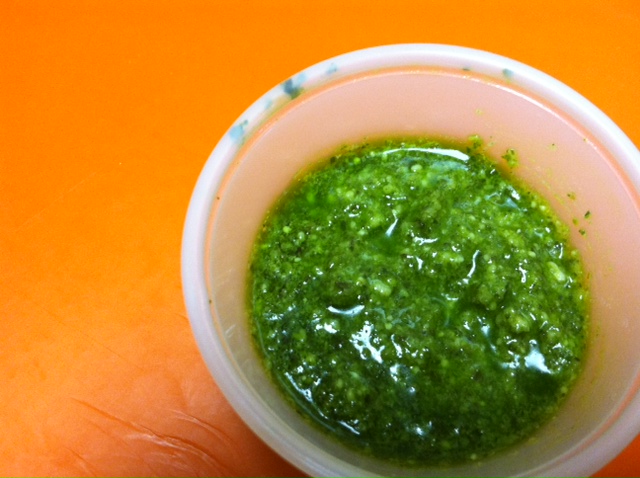 Here is a super simple recipe to make an amazing pesto. Serve over whole wheat pasta, pork, chicken, fish, tofu, or any vegetables.
Ingredients:
1 1/2 cups fresh mint leaves
1/3 cup shelled pistachios
2 cloves garlic, crushed and peeled
2 tablespoons extra-virgin olive oil
2 tablespoons lemon juice
2 tablespoons low-fat plain yogurt
1/8 teaspoon salt (optional)
Directions:
Process mint, pistachios and garlic in a food processor until finely chopped. With the motor running, gradually add oil, lemon juice and yogurt through the feed tube. Process until the mixture forms a paste. If using unsalted pistachios, add salt, if desired.
Use the pesto as a topping for steak, chicken, pork, fish, or tofu. Or add the pesto to a pasta or grain dish to flavor it up.
Yield: 2/3 cup (serving size: 2 Tbsp)
Calories: 55
FREEBIES: 1 Fat