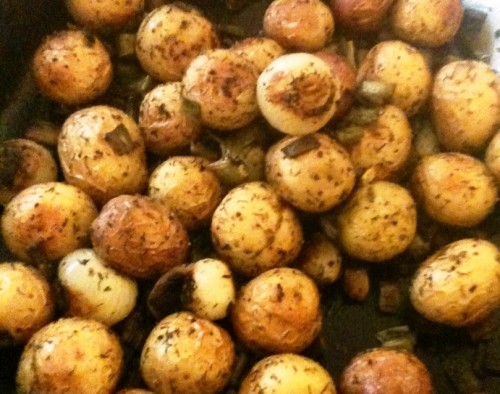 Herbed New Potatoes with Spring Garlic
Recipe by Chenoa Bol, BS in Dietetics
Springtime is in full bloom, and what better way to celebrate the agricultural bounty than with spring garlic! For those of you who are unfamiliar, spring garlic, also called young or green garlic, is garlic that hasn't fully matured yet. Unlike mature garlic, spring garlic hasn't developed the fibrous husk that envelopes each clove, thus allowing you to utilize the entire bulb! Moreover, you can also cook with the green shoots, much like you would use scallions.
The mild, yet distinct garlic flavor of the spring garlic compliments fresh herbs and roasted potatoes well. I like to make these potatoes and throw them into garden salads and frittatas, or just eat them as is.
Ingredients:
2 pounds new potatoes, whole
8 ounces pearl onions, whole, peeled
2 tablespoons olive oil
Salt and pepper to taste
Juice of 1 lemon
2 tablespoons fresh dill, chopped
1 head spring garlic, stem and bulb, course chopped
Tools:
Cutting board & chef knife
Large cast iron pan or roasting dish
Spatula
Directions:
Preheat oven to 400°F.
Place potatoes and onions in a large cast iron pan or roasting dish. Drizzle with olive oil and season with salt and pepper to taste.
Roast potatoes, uncovered, for 20 minutes.
Remove potatoes from the oven and carefully toss with lemon juice, dill and spring garlic. Place back in oven, uncovered, and roast for another 20 minutes or until the potatoes are tender.
Let potatoes cool slightly before using.