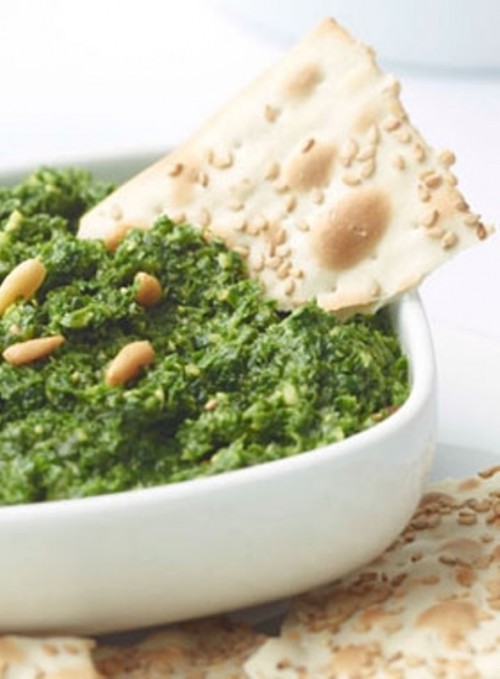 This glorious dip is vegan, low-cal, and filled with fiber, healthy fats, vitamins and powerful phytonutrients. Feel free to make this often—it's as delicious as it is virtuous. If you love kale as much as I do, this recipe is for you. If you do not love kale at all, this recipe is also for you!
Garlicky Kale and Spinach Dip
Makes about 2 cups
Recipe by Stephanie Pedersen, MS, CHHC, Holistic Nutritionist and author
Ingredients:
1 packed cup cooked or steamed chopped kale, squeezed dry
1 packed cup spinach, steamed or raw
2 medium garlic cloves, peeled
3 tablespoons toasted pine nuts (feel free to play with other nuts or seeds)
4 teaspoons balsamic vinegar
1/3 cup extra virgin olive oil (feel free to play with other oils, such as walnut or hazelnut oil, and add more or less oil as desired)
Directions:
Add kale and spinach to the bowl of a food processor. Pulse until pureed.
Add garlic, pine nuts and vinegar. Pulse to puree, slowly adding in the olive oil
Scrape down the bowl, add salt and pepper, and pulse to blend.
About Stephanie:
Stephanie Pedersen, MS, CHHC, is a holistic nutritionist and author of several books, including Kale: The Complete Guide to the World's Most Powerful Superfood, Visit Stephanie online at www.StephaniePedersen.com.