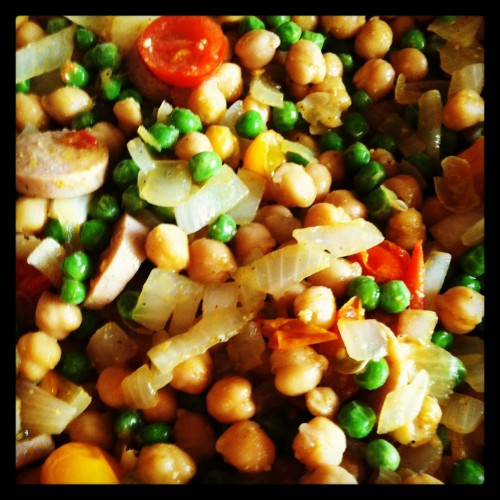 Its always great to have a few cans of garbanzo beans tucked away in your pantry for a quick fix meal!  They can be added to both hot and cold dishes for a boost of protein and soluble fiber!  Here I made a delicious curry stew;  leave out the chicken sausage, use vegetable stock and you have a hearty vegan meal!
Serves 4
Ingredients:
1 Tbsp olive oil
½ white onion, chopped
3 cloves garlic, crushed
2 chicken sausages, sliced ½ inch thick
½ cup heirloom cherry tomatoes, halved
2 cans garbanzo beans, drained and rinsed
1 cup frozen peas
1-2 Tbsp curry powder, to taste
½ cup chicken or vegetable broth
Salt and pepper to taste
Equipment:
Large sauté pan
Spatula or wooden spoon
Directions:
Place oil in sauté pan over medium-low heat.  When hot, add onions and garlic.  Sauté for 5 minutes until soft.
Add sliced sausage to the pan and continue cooking until lightly brown.
Add cherry tomatoes, garbanzo beans, peas, curry powder, salt and pepper to taste.
Add stock and simmer 5-10 minutes until fragrant.