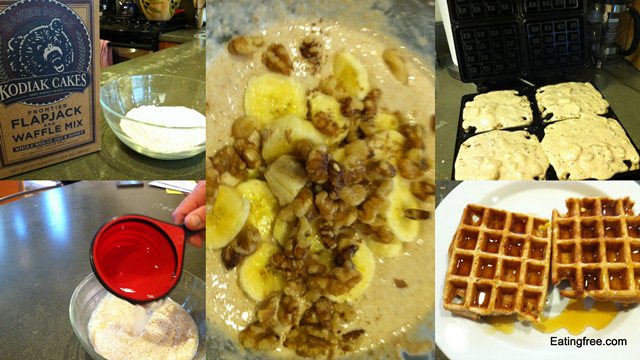 This is a perfect weekend breakfast meal for the entire family. Mmm … Waffles. I've found this amazing low-fat, whole grain, low-sugar, high fiber waffle mix and best of all it is delicious!
Now remember no matter how low-fat, low-sugar or healthy the food is you still have to watch your portions. So enjoy this delicious treat mindfully and eat it with elegance!
Serves two or makes four individual waffles
Ingredients
1 Cup of Kodiak Cakes Waffle Mix dry
1 ½ cup of water
1 sliced banana
4 Tablespoons of walnuts pieces
4 Tablespoons of agave nectar as syrup
Instructions
Pre-heat your waffle iron
Blend with a whisker dry mix with water
Add banana slices and walnut pieces and mix well
Spray a thin coating of cooking spray onto waffle iron
Pour enough batter to fill two-thirds of the waffle iron
Cook until crisp and golden brown
Add a one tablespoon of agave to each waffle
ENJOY!
Per waffle with agave: 233 calories
Freebies: 1 Grain & Starch, 0.5 Fruit, 1 Fat, 1 sugar