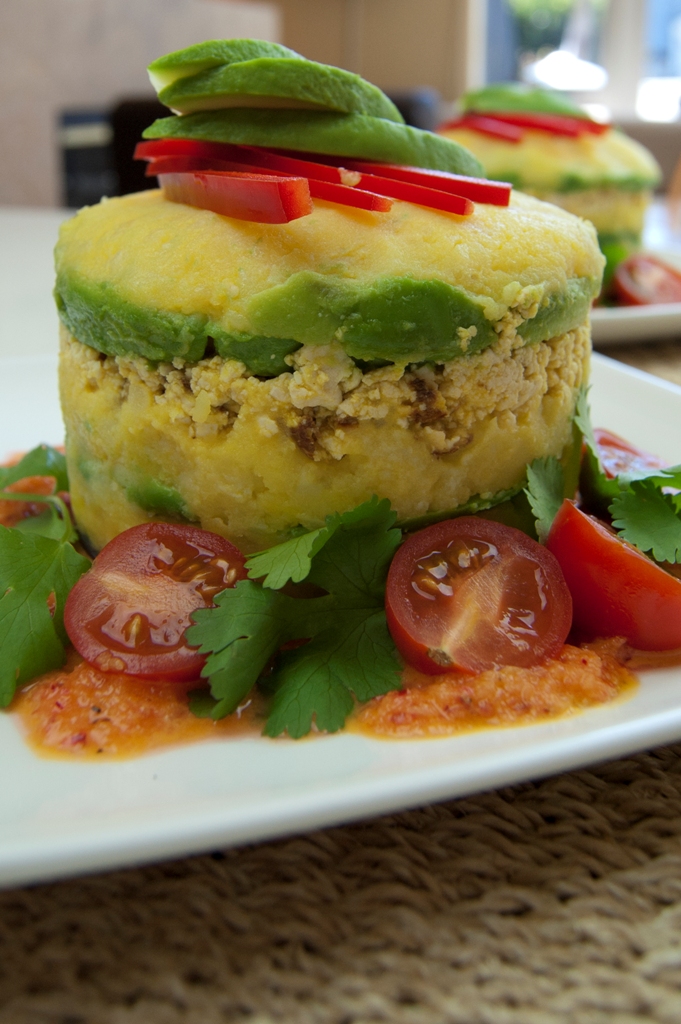 Pronounced kow-suh, this potato dish is a traditional favorite in Peru, particularly in Lima and Amazonian areas. Causa is made by using mashed potato to encase any number of fillings, from chicken to fish to sauteed veggies. Here, we've layered the causa to show the filling inside, but it is often served like a potato sandwich, with the filling in the center.
Ingredients
2 pounds yellow potatoes
2 tablespoons canola oil
2 tablespoon aji paste, or other chili paste
juice of 2 limes
salt and pepper to taste
1/2 cup onion, diced
1 red bell pepper, chopped
3 tomatoes, chopped
2 avocados, sliced
Directions
Cook the potatoes in salted water until the are soft, about 20 to 25 minutes. When cool enough to handle, put through a potato ricer or peel the potatoes and mash them by hand. Mix the potatoes with oil, aji paste, lime juice, and salt and pepper.
In a separate bowl, mix together the onion, bell pepper, tomatoes and avocados.
Divide the mashed potatoes into two portions. Press one potato portion onto the bottom of a plate. Spoon the vegetable mixture over the top of this potato layer, and cover with the second portion of potato.