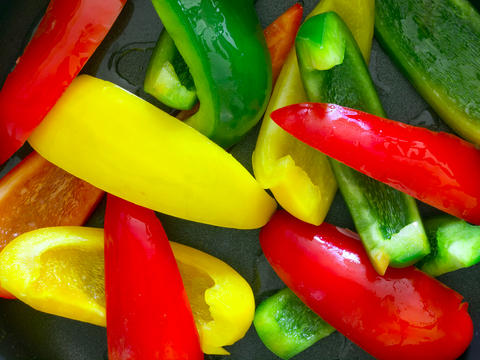 Red, orange, yellow, green, and purple. These are the rainbow of colors you can find when buying sweet bell peppers. I remember the first time I saw a purple bell pepper at the farmer's market. After cooking it, it turned lighter, almost like a smoky grey. Bell peppers provide amazing flavor and are excellent sources of Vitamin C and A (these antioxidants can help protect us from free radicals, which can damage cells).
Here are some quick tips to get your bell pepper on:
Dice a red and green bell pepper and sprinkle in a salad for some extra flavor and color.
Slice a yellow, green, and red bell pepper and a yellow onion into julienne strips. Spray some cooking spray in a pan and cook on medium heat for 4 minutes. Mix in cumin, salt, and pepper. Add some diced chicken or tofu and cook through. Serve over a tortilla and top with some salsa. You've just made delicious fajitas.
Add some bell peppers to any stir-fry for color, flavor, and crunchy pizzazz. Simple stir-fry: red, green, purple, and yellow bell peppers, onion, beef or chicken or tofu, soy sauce, rice wine vinegar, and red pepper flakes.
Dice any colored bell pepper along with an onion and mushrooms. Cook in a pan. Add 2 egg whites and 1 egg to make an omelet. Sprinkle with some cheese and you've got a colorful, protein-filled breakfast.
Slice up some fresh bell peppers and eat with hummus for an afternoon snack.
Boil the whole green bell pepper in water for 2 minutes (blanch it). Remove from the water. Slice the top off and take the seeds out from the inside. Stuff the bell pepper with your favorite already cooked rice and meat filling. Bake the bell pepper in the oven at 350° Bake for 35 minutes. Bon appétit!
Sarah Koszyk, MA, RD, is a nutrition coach at Eating Free who cooks with love and loves to eat.
Join the Eating Free movement by joining us and becoming a FAN of Eating Free Facebook.