A Plant-Powered Sweet Treat
By Sharon Palmer, The Plant-Powered Dietitian
This recipe for black bean brownies is one of my favorite recipes in my new book, Plant-Powered for Life. Not only are they incredibly delicious, they pack in some serious plant-powered nutrition. As the name suggest, the recipe calls for black beans, a type of legume. Legumes, a class of vegetables, which are also referred to as pulses, may be as near to a perfect food as you can find. A half-cup portion, on average, contains at least 20% of our daily needs for fiber, folate, and manganese, 10% of our daily needs for protein, potassium, iron, magnesium, and copper; and 6-8% of our daily needs for selenium and zinc. Research now indicates that eating legumes regularly can offer a variety of health benefits, including lower blood cholesterol levels, lower body weight, and lower rates of heart disease, hypertension, some types of cancer, and diabetes. That's why I recommend that everyone include more luscious legumes in their diet.
And if you're a chocoholic, you'll be delighted to hear that growing research supports that eating small portions of dark chocolate or cocoa products – about 1 ounce a day – for heart health, as well as fighting inflammation that results in the diseases of aging. Just make sure the chocolate contains at least 70 percent cocoa to reap the full benefits of this natural anti-inflammatory agent – such as the dark chocolate called for in these brownies.
I hope you enjoy this plant-powered treat as much as I do!
Black Bean Brownies with Walnuts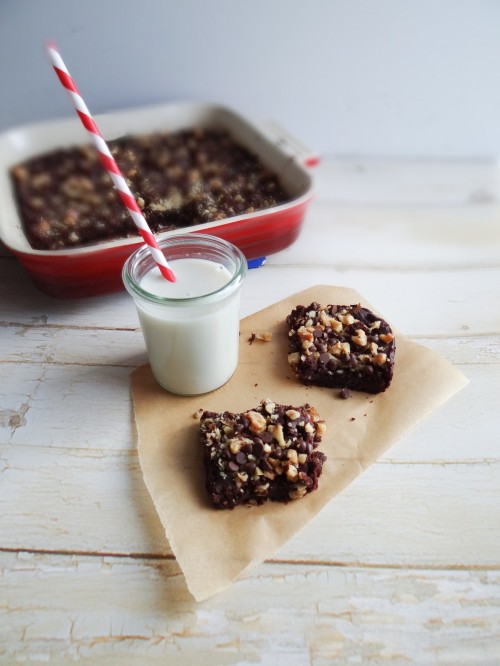 Active preparation time: 9 minutes
Total preparation time: 54 minutes
Here's the perfect scenario—a dense, moist brownie packed with cocoa polyphenols and bean nutrition—protein, fiber, and even antioxidants! The beans replace the grains and some of the fat in this gluten-free, egg-free brownie. I guarantee that nobody will guess the magic ingredient—black beans—in this delicious treat. What a great way to get kids (and grown-ups!) to eat their beans.
Makes 16 servings (one 2 by 2-inch brownie each)
Nonstick cooking spray
One 15-ounce (425 g) can black beans, no salt added, rinsed and drained (or 1¾ cups cooked)
½ cup (170 g) honey or agave nectar
½ cup (43 g) unsweetened cocoa powder
2 tablespoons chia seeds (see Notes on page 000)
1 teaspoon pure vanilla extract
3 tablespoons canola oil, expeller pressed
½ teaspoon baking powder
½ cup (85 g) dairy-free, dark chocolate chips
½ cup (58 g) chopped walnuts
Preheat the oven to 350°F (180°C). Spray an 8 by 8-inch baking dish with cooking spray.
Place the black beans, honey, cocoa powder, chia seeds, vanilla, canola oil, and baking powder in a blender. Process until smooth. Scrape down the sides halfway through blending if needed.
Pour the batter into the prepared baking dish.
Sprinkle the chocolate chips and walnuts evenly across the top of the brownies.
Bake for 45 to 50 minutes, until the edges pull away from the side of the pan and the brownies are firm.
Cool for a few minutes, and then slice into 16 squares.
Note: This makes a chewy, moist brownie.
Per Serving: 149 calories, 3 g protein, 20 g carbohyrate, 8 g fat, 2 g saturated fat, 3 g fiber, 11 g sugar, 99 mg sodium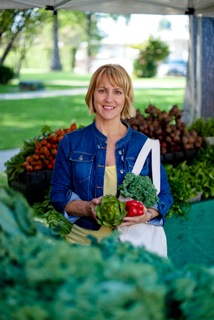 From Plant-Powered for Life: Eat Your Way to Lasting Health with 52 Simple Steps and 125 Delicious Recipes Copyright © 2014 Sharon Palmer
Sharon Palmer, The Plant-Powered Dietitian™ is a writer and author of The Plant-Powered Diet. Over 850 of her articles have been published in national publications, including Prevention, Better Homes and Gardens and Today's Dietitian. She is also the editor of the award-winning publication Environmental Nutrition and writes for her blog, The Plant-Powered Blog. Her specific expertise is in plant-based nutrition, including Mediterranean, vegetarian and vegan diets