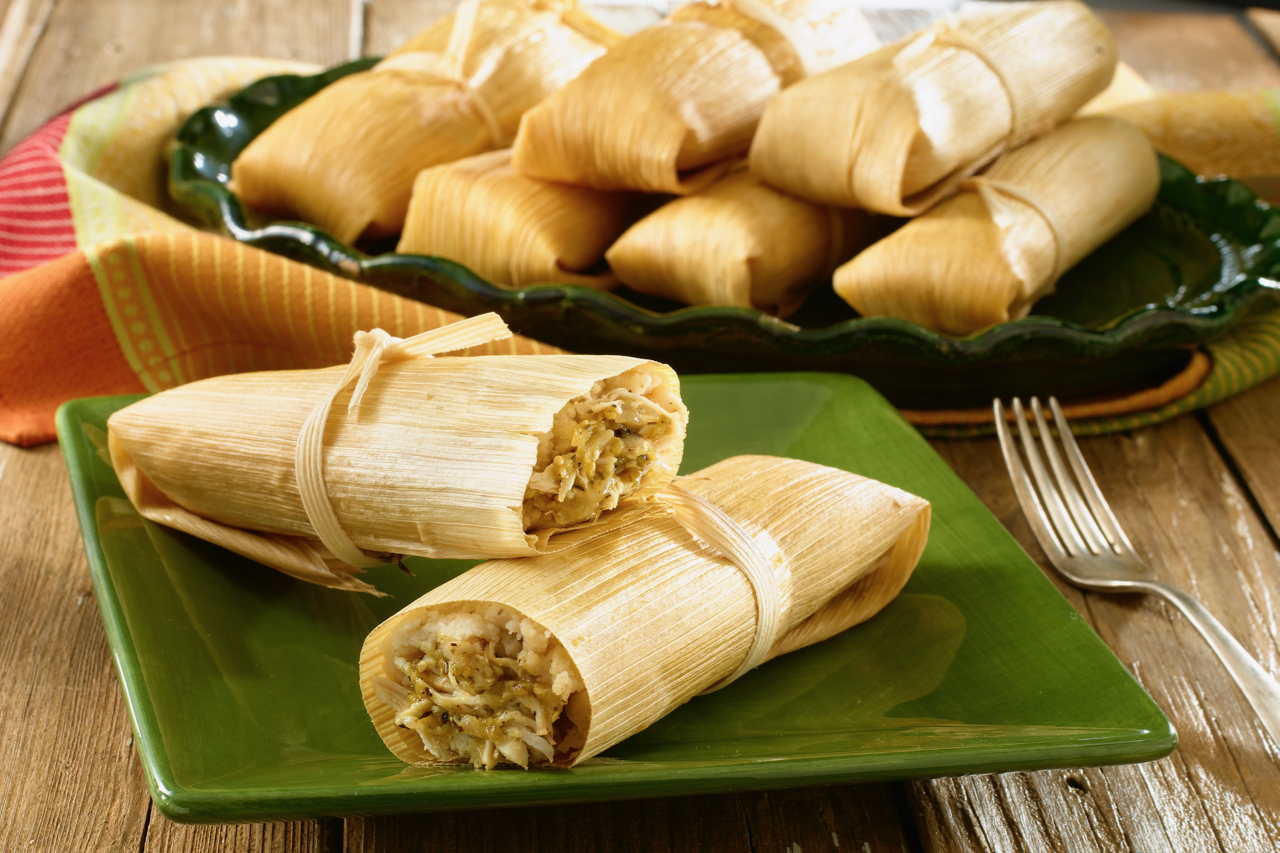 *Para la receta en Español mirar abajo
Is it possible to create a more nutritious twist on a tamale? Absolutely! Typically, tamales include ingredients such as pork or other dark meat and animal fat for the filling, but substitutions can easily be made without sacrificing the classic Latin flavors. In the recipe below, inspired by Vive Mejor's recipe for Chicken Tamales with Green Chile, I have substituted dark meat which is higher in saturated fat for chicken breast and lard for canola oil. Canola oil has the least saturated fat of all common oils, is free of trans fat and cholesterol, and has the most omega 3s of any cooking oil. To enhance the flavors in this recipe, I'm also using Knorr® Chicken flavor Bouillon cubes.
So, what about the drinks? Usually the beverages that accompany tamales in the Latino festivities are usually atoles, hot chocolate and sugary drinks. Instead, I like to pair my tamales with hot brewed Lipton tea. Not only is it low in calories and sugar, but also daily consumption of at least 400 mg of flavonoids helps maintain a healthy heart. A cup of Lipton® Black Tea contains approximately 175 mg of flavonoids per cup.
For this recipe and more mealtime inspiration, be sure to check out ViveMejor.com. And when you do create this delicious meal, show us how you put your own spin on it with a photo and tag it with #MiCocinaViveMejor.
INGREDIENTS
30 corn husks
2 lbs. chicken breast, shredded
10 tomatillos
1 white onion
1 serrano chili peppers
1 Tbsp. canola oil
3 cloves garlic
2 Tbsp. Knorr® Chicken flavor Bouillon, divided
1 3/4 cups water
3 cups masa for tamales
¾ cup canola oil
1 1/2 tsp. baking powder
DIRECTIONS
1. Soak corn husks in warm water until soft, about 1 hour. Drain and thoroughly dry corn husks.
2. Cover chicken with water in 4-quart saucepot. Bring to boil over medium-high heat. Reduce heat to low and simmer until chicken is thoroughly cooked, about 30 minutes. Remove from chicken from saucepot. Cool, then shred; set aside.
3. Toss tomatillos, onion, serrano pepper, and garlic in oil and broil until evenly charred, turning occasionally; allow to cool slightly. Process vegetables, 1 tablespoon Knorr® Chicken flavor Bouillon and garlic in blender or food processor until smooth. Cook processed vegetables with shredded chicken in 12-inch skillet low heat, stirring occasionally, until thickened and excess water has cooked out, about 5 minutes.
4. For masa dough, dissolve remaining Bouillon in boiling water. Pour water into mixing bowl, then stir in masa harina and baking powder. Beat on medium speed using paddle attachment, until combined. Remove from bowl and set aside.
5. Add oil. then add masa mixture, a handful at a time, until mixture is smooth and well combined. Increase speed to high and beat until masa is a soft, thick paste, about 4 minutes. Cover and set aside.
6. Spread 1/4 cup masa dough onto each husk. Place 2 tablespoons chicken filling on the middle of the masa dough. Fold sides of corn husk to center, wrapping the filling. Fold one end of corn husk up against the seam to seal.
7. Arrange tamales vertically in steamer basket over a pot over boiling water, top with extra husks. Cover with lid and steam until husks pull away from filling, about 45 minutes. Check water level often and add additional water as necessary to avoid burning tamales. Cool tamales 3 minutes before serving.
*En español
Sin embargo, ¿es posible hacer tamales más nutritivos? ¡Definitivamente sí! Los tamales suelen incluir ingredientes tales como cerdo u otra carne oscura y grasa animal para el relleno, pero fácilmente se pueden usar reemplazos mejores para ti sin sacrificar los clásicos sabores latinos. En la receta que incluyo a continuación, inspirada por la receta de Tamales De Pollo con Chile Verde de Vive Mejor, reemplacé la carne oscura, con mayor contenido de grasa saturada, por pechuga de pollo, y la manteca de cerdo por aceite vegetal (de canola). Usar aceite vegetal para reemplazar la materia grasa como la manteca de cerdo, que tiene un alto contenido de grasas saturadas, es una forma facilísima de hacer un platillo más balanceado. De todos los aceites comunes, el aceite de canola es el que tiene el menor contenido de grasas saturadas; además no contiene grasas trans ni colesterol, y de todos los aceites de cocina, es la mayor fuente de omega 3. Para realzar los sabores de esta receta, también usé cubitos de Knorr® Caldo con sabor de Pollo.
Bien, ahora que hicimos un platillo de tamales ricos y más nutritivos, ¿con qué bebida los acompañaremos? Por lo general en las fiestas latinas los tamales se acompañan con atoles, chocolate caliente y bebidas azucaradas. A mí en cambio me gusta acompañar los tamales con té caliente Lipton. No sólo es bajo en calorías y azúcar, sino que además el consumo diario de al menos 400 mg de flavonoides ayuda a mantener el corazón sano. Una taza de Té Negro Lipton® contiene aproximadamente 175 mg de flavonoides.
Para obtener esta receta y más inspiración para las comidas, no dejes de visitar ViveMejor.com. Y cuando prepares este platillo delicioso, muéstranos cómo le pones tu sello personal con una foto etiquetada con el hashtag #MiCocinaViveMejor.
INGREDIENTES
30 hojas de maíz
2 libras de pechuga de pollo en hebras
10 tomatillos
1 cebolla blanca
1 chile serrano
1 cucharada de aceite vegetal
3 dientes de ajo
2 cucharadas Knorr® Caldo con sabor de Pollo, divididas
1 3/4 tazas de agua
3 tazas de masa para tamales
3/4 tazas de aceite vegetal
1 1/2 cucharaditas de polvo de hornear
INDICACIONES
1. Remoja las hojas de maíz en agua tibia hasta que se suavicen, aproximadamente una hora. Escúrrelas bien y sécalas.
2. En una cacerola de cuatro litros, cubre el pollo con agua. Deja hervir a fuego medio-alto. Baja a fuego lento y cocina hasta que el pollo esté completamente cocido, aproximadamente 30 minutos. Retira el pollo de la cacerola. Déjalo enfriar y deshébralo. Reserva.
3. Revuelve los tomatillos, la cebolla y los chiles con el aceite y asa en el asador hasta que se pongan negritos por todos lados; déjalos enfriar un poco. En la licuadora o procesador de alimentos muele la verdura con una cucharada de Knorr® Caldo con sabor de Pollo y el ajo hasta formar una salsa tersa. Guisa el pollo con esta salsa de verduras en una sartén de 12 pulgadas a fuego lento, revolviendo de vez en cuando, hasta que espese y el exceso de agua se haya evaporado, aproximadamente 5 minutos.
4. Para preparar la masa, disuelve el Knorr® Caldo con sabor de Pollo en el agua hirviendo. Vierte el agua en un tazón grande, agregua la masa harina y el polvo de hornear y revuelve. Bate a velocidad media con una batidora eléctrica con batidor plano para combinar. Retira la masa del tazón y reserva.
5. En el mismo tazón, agrega el aceite y luego agrega la masa poco a poco hasta que quede tersa y bien mezclada. Aumenta nuevamente a velocidad alta y bate hasta que la masa quede como una pasta suave y espesa, aproximadamente 4 minutos. Tápala y reserva.
6. Unta 1/4 de taza de masa en cada hoja de maíz. Pon dos cucharadas de guisado de pollo en el centro de la masa. Dobla los lados de la hoja hacia el centro, envolviendo el relleno. Dobla uno de los extremos de la hoja hacia el centro, del lado donde se junta la hoja, para sellar el tamal.
7. Coloca los tamales verticalmente en una vaporera sobre una olla con agua hirviendo y cúbrelos con más hojas. Tapa la olla y cocínalos hasta que las hojas se despeguen del relleno, aproximadamente 45 minutos. Estate pendiente del nivel de agua y agrega más agua si es necesario para que no se quemen los tamales. Déjalos enfriar unos tres minutos antes de servirlos.
Disclaimer: Manuel Villacorta, M.S., R.D., is a spokesperson/ambassador for Unilever and is paid for services which include, but not limited to, photography, videography, recipe development, social media promotion and online contributions.
"I only represent companies that I truly believe in their mission and love their products. I use them often myself as they are the best, nutritionally foods available. All the opinions expressed this article or video are my own." – Manuel Villacorta.