Many herbs and spices high in antioxidants are ones you already enjoy. Do you know which ones are most potent and easy to add to your meals? Let's dive in!
You've likely heard that herbs and spices are good for you, but did you ever stop to think why?
Let's explore the chemical compounds in these 6 spices that give them their powerful health benefits. Plus, try these two recipes that have an extra boost of antioxidants with two delicious recipes you'll love:
If you thought that fruits and veggies are the only source of antioxidants…then THINK AGAIN! It's time to dive into the mighty powerful jars sitting on the spice shelf.
Benefits of Herbs and Spices
Backed by research, spices not only enhance the flavor, aroma, and color of food and beverages, but they can also protect people from acute and chronic diseases, due to their high antioxidant activity.
Spices have been shown to have various beneficial effects on human health such as their anti-inflammatory and anti-carcinogenic properties. They can support heart and gastrointestinal health and the immune system.
So aside from eating the rainbow of colors of fruits and vegetables, also, I recommend to add spices in your dishes to get the most antioxidants in your diet!
6 Herbs & Spices High in Antioxidants
Here are 6 spices high in antioxidants to consider adding to your meals and snacks.
Clove
Turmeric
Cinnamon
Paprika
Oregano
Black Pepper
The Spice with the Highest Amount of Antioxidants
Did you know the clove is the number one spice with most antioxidants? Ground or whole, clove had the highest average antioxidant compared with any other spices tested.
Now let's look at what compounds are in charge of providing this antioxidant activity.
Chemical Composition and Antioxidants of Herbs and Spices
| | |
| --- | --- |
| Herbs or Spice | Chemical Composition (Antioxodants) |
| Clove | Eugenol, isoeugenol, acetyl eugenol, sesquiterpene, pinene, vanillin, gallic acid, flavonoids, phenolic acids |
| Turmeric | Curcumins, essential oils, eugenol, carotene, ascorbic acid, caffeic, p-coumaric, protocatechuic, syringic, vanillic acid |
| Cinnamon | Eugenol, limonene, terpineol, catechins, proanthocyanidins, tannins, linalool, safrole, pinene, methyleugenol, benzaldehyde |
| Paprika | Beta carotene, capsanthin, zeaxanthin, and lutein |
| Oregano | Apigenin, quercetin, luteolin, myricetin, diosmetin, eriodictyol, carvacrol, thymol, rosmarinic, caffeic, p-coumaric, protocatechuic acid |
| Black Pepper | Piperine, pinene, camphene, limonene, terpenes, piperidine, isoquercetin, sarmentine |
Save this image for later!
Now are you ready for two delicious recipes full of antioxidants? Let's get cooking!
Homemade Spiced Golden Milk (Turmeric Milk)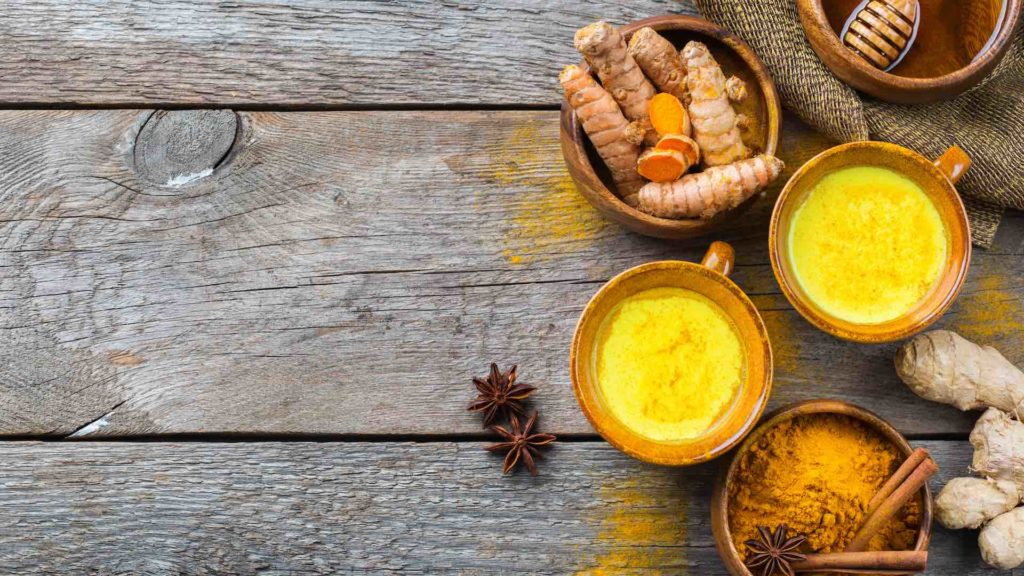 Golden milk has recently been picking up popularity in cafes around the world. The secret ingredient in this yellow-colored drink is turmeric. There are other spices to boost the flavor, and black pepper is used to enhance the absorption of the turmeric. Plus, using spices can help reduce the amount of salt and fat in your cooking so overall is great for your health.
Serves: 1
Ingredients:
1 cup of 2% milk (or plant-based beverage of choice)
1 teaspoon honey
¼ teaspoon ground turmeric
¼ teaspoon ground ginger
¼ teaspoon ground cinnamon
¼ teaspoon ground clove
Small sprinkle of ground black pepper
Instructions:
In a small saucepan, gently heat milk with honey. Stir occasionally and bring to the point where it is almost boiling, with small bubbles forming around the edge of the pan.
Remove from the heat and whisk in the spices until well blended. Let stand for 2 minutes. Add a sprinkle ground black pepper.
Nutrition facts per serving: 143 calories, Fat: 5 grams, Total Carbohydrate: 17 grams, Dietary Fiber: 0 grams, Protein: 8 grams
Air Fryer Small Tricolored Potatoes with Paprika & Oregano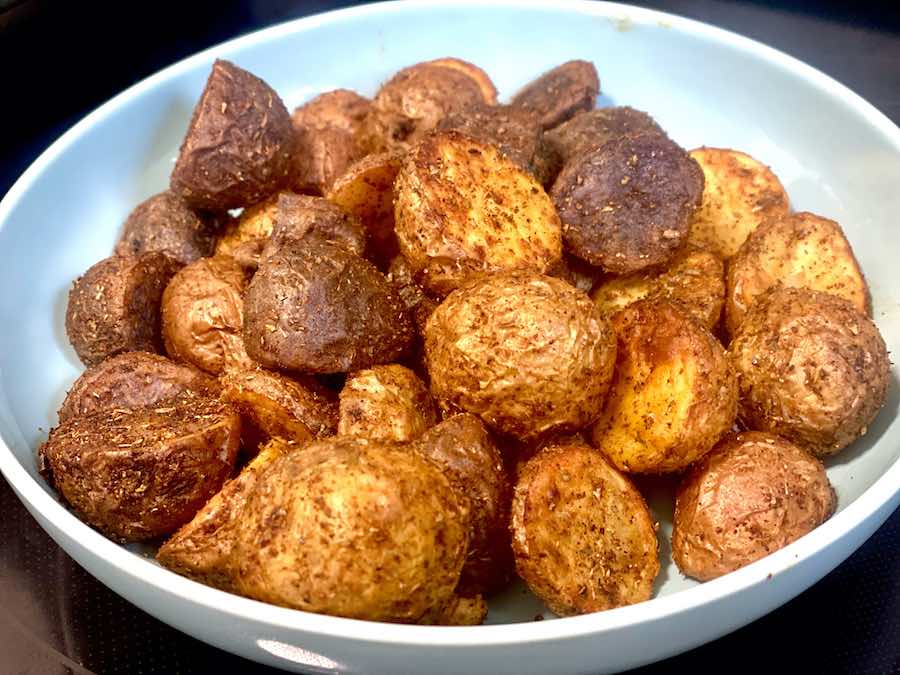 The Air Fryer became a household staple in the past few years, and for a good reason! With minimal preparation, the press of a few buttons, and fast cleanup, you can have a meal or a simple side dish ready to serve. These air fryer tricolored potatoes with herbs are a perfect dish
Serves: 4
Serving Size: 175 grams or 1¼ cups
Ingredients:
1 1/2 pounds tricolored potatoes, halved
1 tablespoon extra-virgin olive oil
1 teaspoon garlic powder
1/2 tablespoon paprika
1 tablespoon dried oregano
1/4 teaspoon black pepper powder
1 teaspoon sea salt
Instructions:
In a large bowl, toss potatoes with all the ingredients.
Place potatoes in basket of air fryer and cook at 400° for 10 minutes. Shake basket and stir potatoes and cook until potatoes are golden and tender, 8 to 10 minutes more.
Nutrition facts per serving: Calories: 122 kcal, Fat: 1 gram, Total Carbohydrate: 24 grams, Dietary Fiber: grams, Protein: 3 grams
To learn more about antioxidants, read Immunity Series: Antioxidants and Phytonutrients.