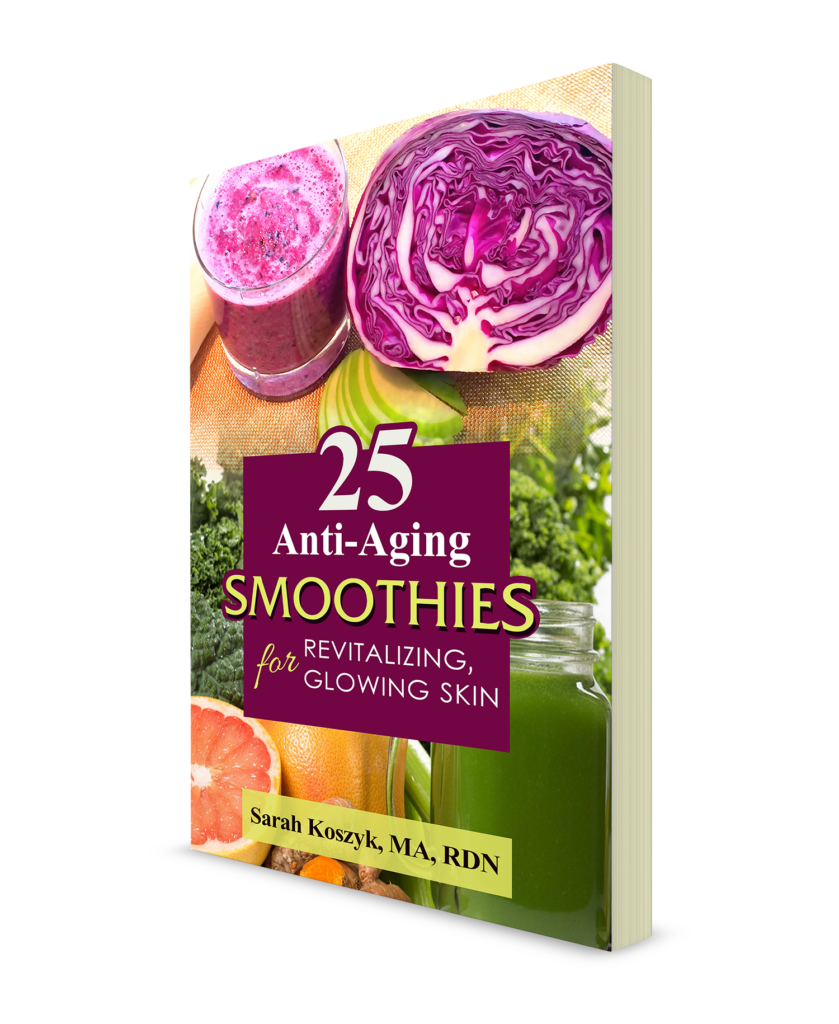 25 Anti-Aging Smoothies for Revitalizing, Glowing Skin
The 25 Anti-Aging Smoothies for Revitalizing, Glowing Skin book is the result of passion, love, and knowledge from author and close personal friend, Sarah Koszyk, MS, RDN.
This book features smoothie recipes that incorporate superfoods such as cacao, avocado, and chia seeds, to name a few. They are all designed to be gluten-free, dairy-free, soy-free, vegan, and contain protein to keep ones skin radiant and vibrant. Each smoothie provides only 1-2 servings of fruit, heart-healthy fats, and a good source of protein to ensure a complete, well-balanced meal in one drink. Although the focus is on anti-aging, these smoothies are all less than 300 calories, perfect for those watching what they eat.
What really caught my attention is that the smoothies are separated into five different anti-aging, antioxidant and phytonutrient categories including Vitamin E, Vitamin C, Beta-Carotene, Omega-3s, and Polyphenols as they are potent anti-agents. It's a simple and effective smoothie cookbook that allows you to pick and choose which antioxidant you want in your diet. The book includes nutritional facts for each smoothie so you know exactly what you are getting. It also includes call-outs that provide the reader with helpful tips on using spices and modifying the recipes depending on your diet preference. These smoothies are great for a meal or a snack, but either way, an amazing way to incorporate superfoods into your daily life.
I worked with Sarah at MV Nutrition for over 10 years, and she is truly a dietitian that I trust. I am proud to review 25 Anti-Aging Smoothies for Revitalizing, Glowing Skin, being as this is not only her first book, but also her next big step in the nutrition and wellness field. She now works for Family. Food. Fiesta where she lends her expertise in family nutrition and health.
To learn more about this amazing book, please click here.