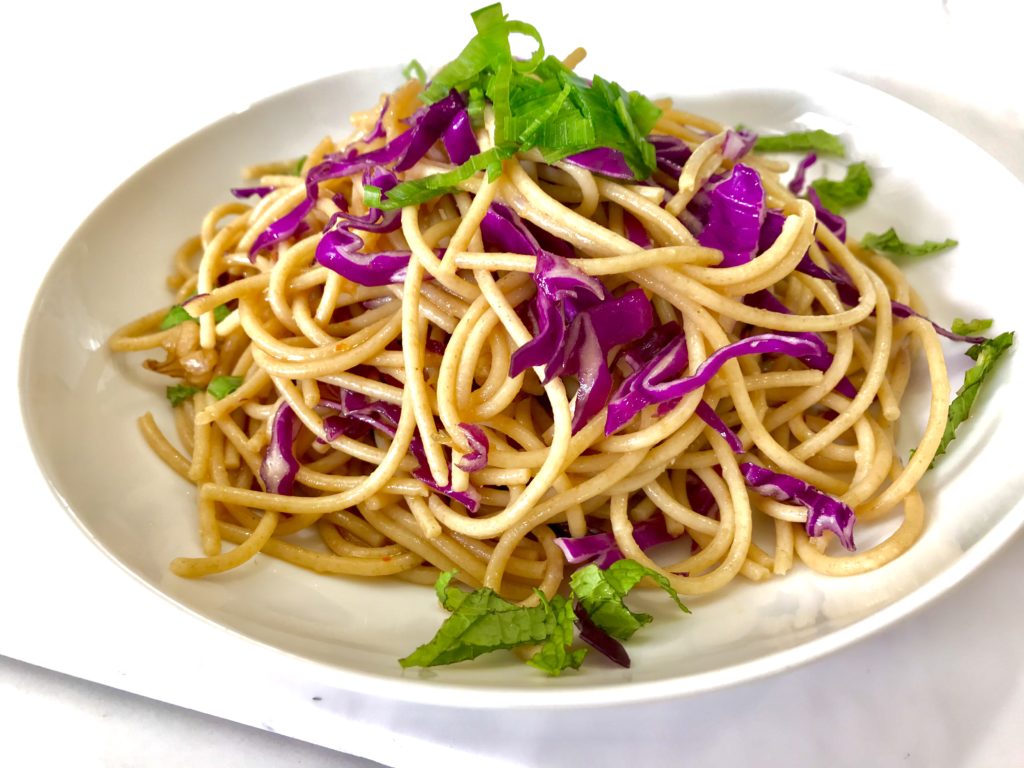 Vegetarian 
This salad contains both whole grain pasta and red cabbage, both of which are nutritious for you due to their fiber and antioxidant content. The salad also has some Asian twists, particularly with its inclusion of sesame oil which is aromatic and great addition to salads aside from your typical olive oil and vinegar.
A salad like this could be perfect to pack for lunch as the pasta and cabbage hold up to being refrigerated and kept for future use. Try it the next time you're looking for a substitute for your typical work-week sandwich!
Servings: 4 serving
Serving Size: 1 cup
Ingredients:
8 oz whole wheat pasta
1 cup red cabbage, shredded
1 tablespoon sesame oil
4 tablespoon rice vinegar
¾ cup sweet chili sauce
¼ cup  light soy sauce
2 teaspoon honey
1 cup snap peas, shredded
4 spring green onions, chopped
2 tablespoon peanuts, chopped  
2 tablespoon cilantro, chopped (optional)
Directions:
Cook pasta according to package.

Combine cooked pasta with red cabbage in a large mixing bowl.

In another bowl whisk together sesame oil, rice vinegar, sweet chili sauce, light soy sauce and honey.

Pour in sauce over pasta and cabbage. Mix well.

Sprinkle in snap peas, green onions, peanuts and cilantro.

Pack in container and refrigerate until lunch time.