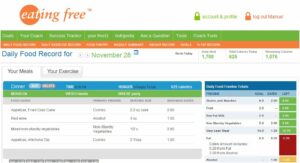 Eating Free involves a lifestyle approach to weight loss, which means it will take some time to learn, but don't worry, it's easy to understand and simple to use.  On average, it takes about four weeks to grasp the idea, but once you learn it you'll be able to eat the foods you enjoy and still lose weight!  Be patient and follow the steps.  They're worth it!
One of the keys to your success is record-keeping because it helps you see where you're spending your freebies each day as well as throughout the week.  So if one day you consume more than the recommended amount of freebies, just look at the summary page to see how you're doing on average for the week.  You can use this information to plan ahead for days that you know you'll go over your caloric prescription, like at holiday parties and during family gatherings.
Keeping track of the foods you eat will also clue you in to what kinds of foods you should be choosing for the remainder of the day or the week, and which ones you should probably skip for now.  Just having this knowledge will motivate you to stay on the right track.
Daily recordkeeping is the best way to see if you're meeting your goals and staying within your recommendations.  Be accurate and complete with your entries for the best information and results.  Remember, inaccurate or incomplete entries are your enemy as they don't provide a clear picture of where you are right now.  Be good to yourself by being honest with yourself!
If you find that you can't keep records online as you go because you're not in front of a computer, choose two times each day to dedicate to your intake entry.  Do it after lunch so that you can see what's left for the rest of the day, and again after dinner to complete your day.  Don't worry if you miss a day.  Just start a new day and move forward!
Truly, you can eat whatever you want.  You just need to write it down!  We don't want you to have to give up doing fun things just because you're trying to lose weight.  That's why Eating Free lets you eat at restaurants, enjoy a night out with friends, and let loose on vacation.  Whatever you want to do, just keep track of what you eat, remember the basics, and leave the rest to us.
To Do Today:
Start food record keeping!