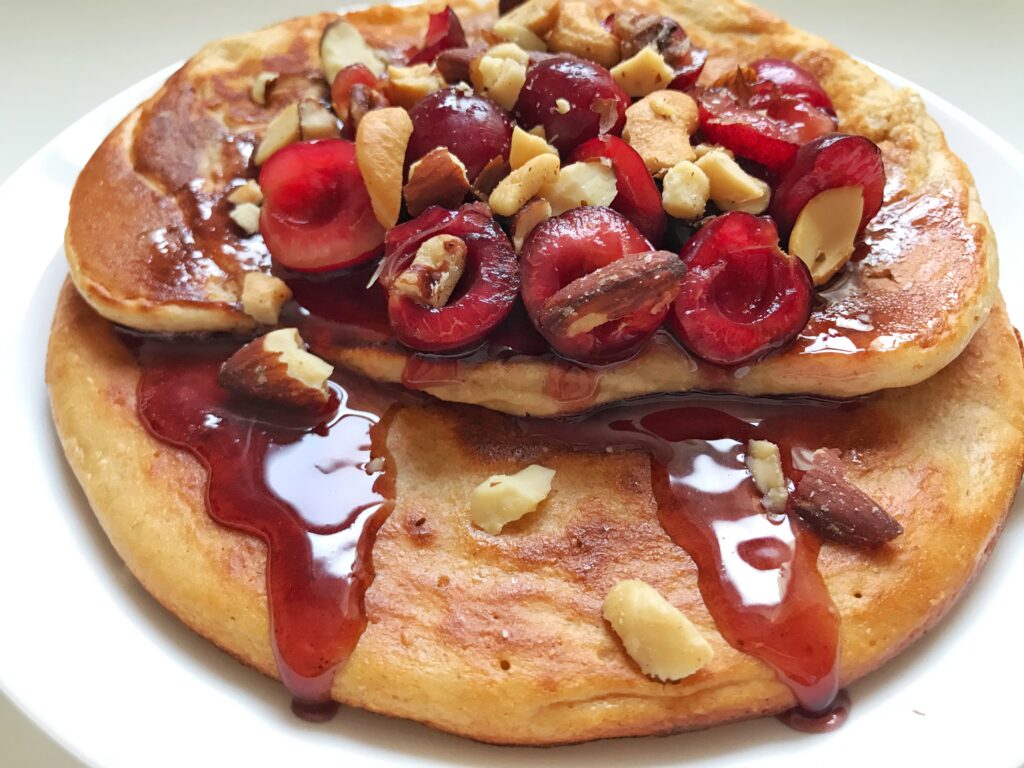 #Vegetarian 
For these Protein Pancakes, I used Kodiak brand. This brand produces high quality pancakes every time. To top it off, we are going to use the in season cherries and reduce it down with some maple syrup. For additional protein, we are topping off the pancake with chopped walnuts which are high in healthy fats and protein.
Kodiak Flapjacks provide about 18g of protein if you make the mix with milk and an egg. Traditional pancake mix provides about 5g of protein. When looking for pancake mix, try to find mixes that contain at least 10 g of protein per serving.
Servings: 4
Serving Size: 1 pancake
Ingredients:
1/2 cup Kodiak Pancake Mix
1 large egg
1 cup 2% milk
2 teaspoon vanilla extract
1 teaspoon cinnamon
1 cup maple syrup
1 cup pitted cherries
1 cup walnuts, chopped
Directions:
1. Prepare pancake mix according to the box's instruction using the egg and milk . Mix in vanilla extract and cinnamon.
2. Spray the skillet with cooking spray. Over low heat, evenly pour out four pancakes. Flip when the top of the pancakes become solidified. Cook for an additional 1-2 minutes. Set aside.
3. In a small sauce pan, pour maple syrup and cherries. Reduce this mixture over low heat for about 30 minutes.
4. Plate the pancakes and pour some of the cherry maple glaze over pancakes as desired. Top it off with walnuts.