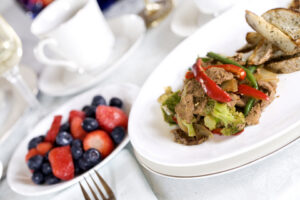 By now you should know how important it is to start your day out right by eating breakfast.  But did you know that you should be eating 70% of your calories before dinner?  This means that no matter how late you end up eating, you should make sure you've eaten the majority of your calories earlier in the day.  Eating after 7 pm is okay, just make sure that dinner contains no more than 30% of your daily intake of calories.  And wait at least 90 minutes before you go to bed.  This pattern will greatly improve your sleep, to boot!
In addition to a hearty breakfast and a satisfying lunch, don't forget to eat healthy snacks throughout the day.  And don't 'save up' your calories.  Remember to check your weekly averages to see where you are, then base your food choices on this instead.  You'll be more satisfied and more likely to lose weight!
To Do Today:
Start your day out right with a healthy breakfast, then plan for a satisfying lunch.  Make sure your dinner tonight is less than 30% of your total calories for the day, and be ready to go to bed at least 90 minutes after dinner.  Trust me.  You'll sleep like a baby!